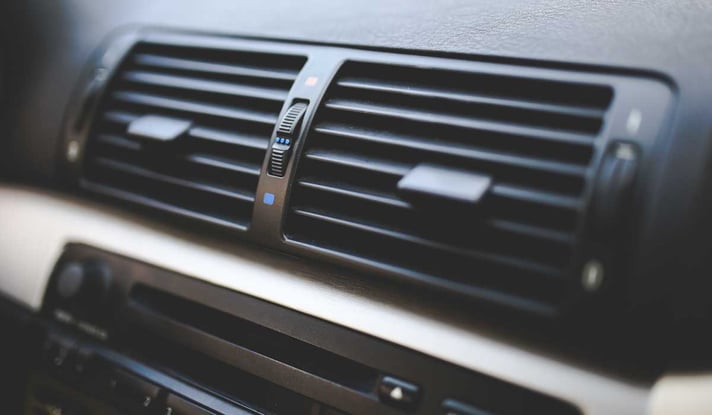 The U.S. economy relies on truck drivers and truck drivers rely on their truck's A/C units.
Regular truck A/C service and preventative maintenance are very important to keep it operating and in top condition. Regular maintenance can also detect leaks or damage to your A/C system and can save you downtime down the road (and save you a lot of unnecessary sweating too!)
If you've ever typed "truck A/C repair near me" on your phone, you know how miserable losing your A/C can make you feel. Truck A/C maintenance and repair from Jarrett Fleet Services will keep it operating at peak performance.
The air conditioning in your truck works just like the A/C unit in your home – it moves the heat from inside to the outside and replaces it with cooler air.
Your truck's A/C system is comprised of these components:
The compressor pressurizes the refrigerant to cool the air

The condenser reduces the temperature and pressure of gasses coming from the refrigerant and moves cooled liquid refrigerant to the receiver/dryer

The receiver/dryer removes moisture from the refrigerant

The thermal expansion valve monitors the pressure and temperature of your A/C system and calculates the exact amount of refrigerant that can safely go into the evaporator

The evaporator cools the air with the refrigerant before it is blown into the cab of your truck
You know how important it is to keep a truck's engine cool while it is operating. It is just as important to make sure the truck's cab is comfortable for the driver. This is true for
trucks that mainly make day runs in areas of the country that see seasonal temperature swings, and for long-haul trucks that might be in chilly Chicago on Monday and in blazing hot Phoenix on Thursday.
Air conditioning and heating units have a major impact on the driver, because when he or she is comfortable, they are more alert and content. Keeping your fleet's A/C systems operating efficiently helps keep your drivers safe, happy and productive.
Here are a few signs your truck's A/C might be failing:
Your air conditioning is blowing air that feels only slightly cooler than the outside air

The cab air smells musty or damp, or like mildew

Your A/C only works when driving and not when idling, or completely stops when the truck is stationary

There is low airflow, even on the highest fan setting

The defroster takes longer than typical to defrost, or does not work at all

The heater blows cold air, while your A/C blows warm air
These issues aren't unique to the summer months; in the winter, your heater is just as important. Your vehicle's cab should always be comfortable.
During a standard Jarrett Fleet Services A/C evaluation, our technicians will examine all system components for wear and damage, check the radiator coolant, hoses, system pressure and temperature, inspect the compressor, measure the air vent temperature, and make sure that the A/C performance meets the needs of the cab and driver.
If you need truck A/C maintenance to make sure your system is performing as needed, or your truck needs air conditioner repair right now, contact Jarrett Fleet Services at 877-392-9811 so you can stay cool on the road!