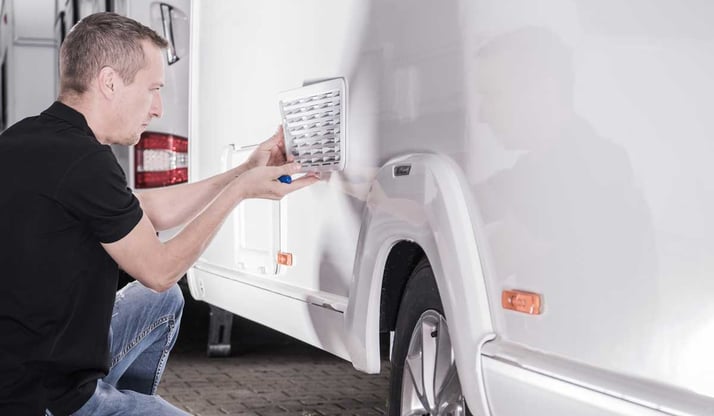 Without your trailer, moving freight is impossible, which makes it as important as your truck.

Jarrett Fleet Services can meet all your trailer maintenance and emergency 24-hour repair needs and keep you on the road, meet your delivery obligations, and ensure your assets remain productive.
Trailer Maintenance
Managing a fleet can be expensive, whether your fleet is one truck and trailer, or hundreds. Regular trailer maintenance is essential and having a trailer maintenance plan in place helps control your costs. Finding and repairing issues before they become serious problems avoids costly repairs down the road.
Regular trailer maintenance also includes DOT inspections to make sure you always meet safety and compliance requirements.
Maintenance is critical because not paying close attention to your trailer's condition can take you off the road for repairs or compliance issues.
Emergency 24-Hour Trailer Repair
If you have a breakdown in Northeast Ohio, we can come to you and take care of most trailer repairs with our 24/7 roadside assistance. We'll get to you quickly and provide the same great service and quality trailer repairs that we provide in our repair centers.
If you need emergency roadside trailer service on I-71, I-76, I-77, I-80, or I-271, call Jarrett Fleet Services at 330-925-5339.
Trailer Repair Facilities
The Jarrett Fleet Services repair centers in Kent and Seville, OH are staffed with
highly-trained technicians that can handle just about any trailer repair, upgrade or refurbishment.
Fleet Trailer Maintenance and Repair Includes:
Liftgate installation and repair

Overhead and swing door repair and replacement

Roof and flooring repair and replacement

Tires, wheels and brakes, including including ABS diagnostics

Reefer repairs

Sandblasting and repairing

Welding
Hydraulic repairs
Our mission is to make sure you stay on the road or quickly get you back on the road after a breakdown. To learn more about our routine trailer maintenance, or if your trailer needs service now, contact Jarrett Fleet Services at 330-925-5339 and stay on the road!