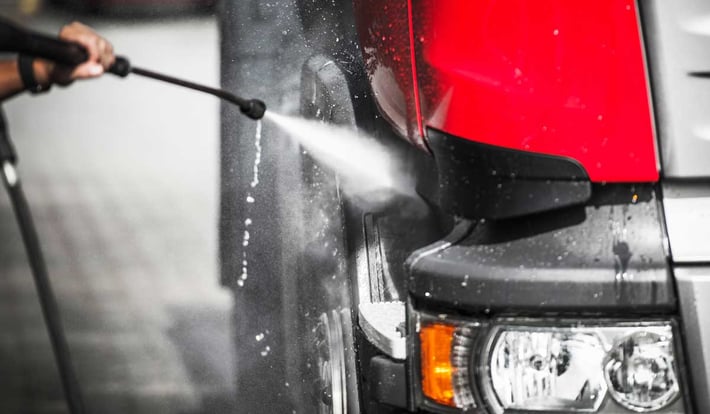 Let's face it...in today's world, first impressions are everything, especially when it comes to business. We want our clients to have full confidence and trust in the services we are providing them from day one, and there is no quicker way to do that than by having a professional demeanor and appearance.
At Jarret Fleet Services, this golden rule is absolutely no exception. In fact, appearance and a polished aesthetic may hold more weight when it comes to a commercial fleet, as thousands of eyes are on your fleet each and every day they are on the road.

Additionally, your drivers will have more pride in their vehicles when they are regularly washed and cleaned. And having pride in your vehicle and in what you do translates to happier employees.

Appearance is just one reason maintaining a clean fleet is important, and is a huge factor why we recommend routine fleet washing and cleaning by Jarrett Fleet Services!

A dirt- and grime-free appearance on a fleet portrays that your company cares about the state of the vehicles you own, which builds trust. A dirty, unkempt fleet demonstrates that cleanliness is not a priority, and especially in today's world, a company's cleanliness efforts are essential.

In addition to simply maintaining the look of your fleet, regular truck washing helps preserve the equipment and components of the vehicle. The more build up on your vehicle...such as dirt, salt, natural elements, insect remains and overall muck... can quickly lead to equipment deterioration, rust, and even vehicle failure. Washing your fleet on a regular basis is an easy solution which can save you hundreds to thousands of dollars in the long haul.

Keeping your fleet clean also aids in helping the environment, which is something that is often overlooked when it comes to maintaining fleets. Dirt and grime that build up on a vehicle from one region, and then are exposed to different environments may unintentionally introduce non-native species to an area. Eventually such a crossover could be detrimental to the environment.

To keep it clean and simple, washing your fleet regularly is a task that will provide cost-savings in the future, extend the life of the vehicle and maintain the functionality of the vehicle itself. From a brand reputation perspective, your brand will earn and maintain the professional integrity you have spent time building. Let Jarret Fleet Services help keep your fleet clean and keep the dirt where it belongs, on the ground. Contact Jarrett Fleet Services at 330-925-5339 to schedule your truck washing!