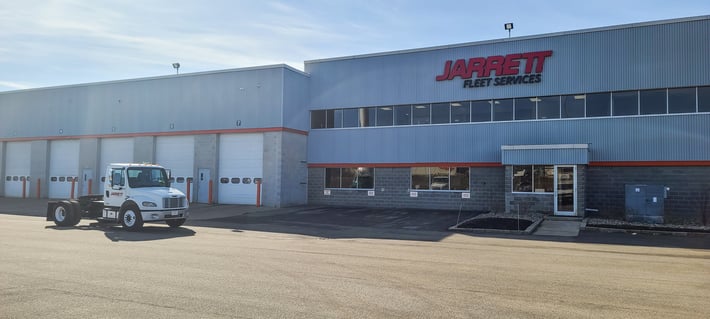 Are you in the automotive industry working as a technician, mechanic or a similar position? Are you looking for your next career move to an organization that supports a safe work environment, competitive atmosphere, and an awesome benefits package? Look no further, because Jarrett Fleet Services is hiring! We are currently hiring for Diesel Mechanic, Diesel Technician, and Service Truck Technician.
Jarrett Fleet Services is a full-service trailer and truck repair company located in Seville, Ohio. We're a part of a growing family of companies with five unique brands under the Jarrett name, and we've been consistently recognized by The Plain Dealer as one of the Top 100 Places to Work in Northeast Ohio.
Ever since our humble beginning over 20 years ago, the key to our success has been one thing...our people! We look for people that are driven, want to grow, and show that they care. This is what we call the "Jarrett Difference". We believe in work-life balance, creating a great place to work, and doing great things for our customers every day.
Additionally, the foundation of all that we do is encompassed in eight core values: Courage, Character, Excellence, Entrepreneurial Spirit, Fairness, Respect, Compassion, and Civic Responsibility. We pride ourselves in employing the best of the best based on these qualities, and through this, have cultivated our Jarrett family.
Don't take our word for it though. Meet some of our team members that are behind the Jarrett Difference:
"The employee perk that I enjoy the most is the flexibility. It's great to have flexibility to balance work life and home life." Tim, Lead Technician
"I've been at Jarrett since the very beginning. The Jarrett Difference to me is how the team makes you feel welcome and important from the moment you walk in the door. We all strive to do our best, and I feel appreciated every day at Jarrett." Tom, Parts Coordinator
"In comparison to other companies, the workers at Jarrett are a lot closer inside and outside of work. I've been at Jarrett for a little over 2 years and the best part of my job is definitely the people." Trenton, Trailer Technician
Voted one of the Top Workplaces in 2020 by the Plain Dealer, we also pride ourselves in the diverse benefits our employees have access to, both tangible and intangible. Our tangible benefits include paid time off, medical/dental/vision insurance, and company-paid life insurance. We also offer 401k contribution matching, paid holidays, tuition assistance, a robust wellness program, and Tool Allowance. Designed specifically to support our Jarrett Fleet Services team, the Tool Allowance Program offers up to $450 per year towards new tools or tool repairs, ensuring that you'll have what you need to provide top-notch service and repairs. But the benefits don't stop there. We also offer a family-oriented company culture, a positive working atmosphere, and a flat organizational structure.
Working at Jarrett is more than just coming to work, it's coming into a group of people that care about what they do and care about each other. If you are interested in joining our team and learning first-hand what the Jarrett Difference is all about, visit our careers page today at https://www.jarrettcareers.com/ or contact our Recruiting team directly by calling (330)-682-0099 X5011 or emailing HR@gojarrett.com to start a conversation.