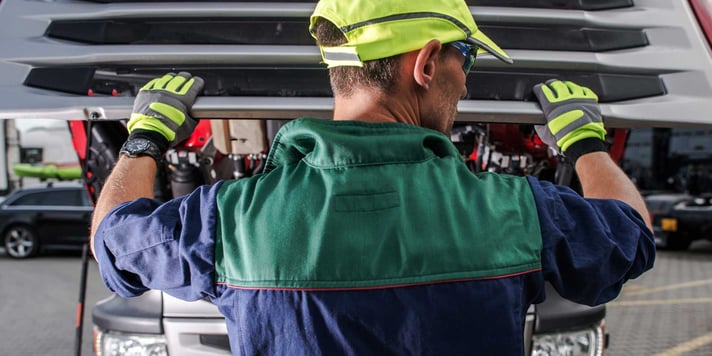 The hard truth of owning a fleet… your once-polished, immaculate vehicles will at some point start showing their age. Dents, scrapes, and chipped-paint will happen. Whether bodywork repairs are needed due to natural causes or collision damage, Jarrett Fleet Services is here to give your fleet the TLC it needs, especially when it's from the latter.
We understand there are endless ways your truck or trailer could experience damage. Inclement weather like hail or heavy rain, an accident, vandalization, or a natural disaster could put your truck and trailer at risk for collision damage. And ultimately, if your vehicle is off the road and your wheels aren't turning, you're not earning. Plus, you want a clean looking fleet on the road to leave the best impression on your customers. With our highly-skilled technicians, we can tackle all of your bodywork and collision damage needs for your truck or trailer, giving your fleet a much needed makeover and getting you back on the road quicker.

With repair package options for both trucks and trailers, you can put your mind at ease knowing that whatever is on the road ahead can be tackled by the experts at Jarrett Fleet Services. Our fleet truck repair service includes 24/7 roadside assistance, bodywork, ABS diagnostics and repair, drivetrain repair, diesel engine diagnostics and repairs, and much more more.

The fleet trailer repair package includes 24/7 roadside repair service, tires, wheels, and brakes, liftgate installation and repair, extensive body repairs, and more.

Whatever your truck needs, we know that you will experience the Jarrett Difference! Our technicians have over 100+ years of combined truck and trailer experience, and each one of our team members takes great pride in their work, so you can ensure your maintenance or repairs will be done with excellence. Our goal is to repair your fleet quickly, and ensure it's safe to get you back on the road. Call Jarrett Fleet Services today at 330-925-5339 to learn more about how we can provide the best repair solution for your fleet's needs.