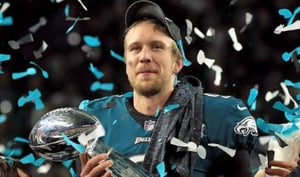 There are always plenty of storylines leading up to and following the Super Bowl each year. This year one of the most interesting storylines to me has been the story of the Super Bowl MVP that almost never was. Nick Foles (quarterback of the Philadelphia Eagles) was thrust into the starting role after Carsen Wentz went down with an injury last December. Foles looked built for the spotlight of the game's biggest stage showing the ability to make great decisions, displaying pinpoint accuracy and leading the Eagles to victory over the New England Patriots.
Trust the process
Just two years ago there were plenty of questions that surrounded Foles' future – the questions mainly came from himself – which caused him to consider retirement at age 27.
After spending the first three seasons of his professional career with Philadelphia, Foles was traded to (at the time) the St. Louis Rams. While with the Rams in 2015, he had a trial ridden and underwhelming season. He seriously questioned whether there was a reason for him to continue playing in the NFL.
Once Foles decided not to retire he needed to determine which team was the best fit for him moving forward. Although he had several options, he chose to sign with the Kansas City Chiefs in 2016 which reunited him with his former Eagles head coach, Andy Reid.
"He's a man that has always believed in me, no matter what has gone on in my career," Foles said. "He drafted me. I know that if I played for him, I'd give it one more shot – that he could find the joy. If I had the joy in there, he could bring it back out, and he sure did."
Foles believed in the overall process of the organization, the system that Reid had established and how this fit with his goals at this point in his journey – allowing him to focus on what he does best and to bring back his love for the game
But the story doesn't end there…
Find the best fit for you
During Super Bowl LII, with a mere 38 seconds remaining in the first half, the Eagles were faced with a fourth-and-goal from the 1-yard line. Eagles Head Coach, Doug Pederson, called a timeout to discuss the pivotal decision. As Foles approached the sideline during the timeout he asked Pederson if he wanted to run the "Philly Special". Pederson agreed and Foles caught a touchdown pass which will go down as one of the gutsiest calls in Super Bowl history. That exchange was just one of many that showed how well Pederson and Foles communicated and trusted each other. Foles was truly an extension of Coach Pederson out on the field. Pederson made some fearless decisions during the game and the "Philly Special" was certainly one of them.
If that decision did not go as they intended there would have been plenty of "Monday Morning Quarterbacks" at work the next day saying what "shoulda, woulda, coulda" happened if they'd have just done things differently.
It's hard to believe Foles signed with the Eagles prior to the 2017 season. Now, he will go down as a World Champion, the Super Bowl LII MVP and beloved by Eagles fans everywhere.
You may be wondering how this story relates to the world of logistics. Well, selecting the right logistics partner is no different than Foles choosing the right situation, coach or play.
There are thousands of different transportation providers in the market with a wide variety of operating models. One model is not necessarily better than another – it comes down to which model is the right fit for each shipper at that point in their journey.
There are logistics providers out there who do not get involved in the day-to-day execution and are very good at being the Monday Morning Quarterbacks; showing how you could have made better decisions a few weeks or months after the fact, and how much money that would have saved you. There are transportation consultants out there who have a great deal of experience that can develop a game plan in advance but are not present to help your team execute and make adjustments as unexpected obstacles arise. Then, there are logistics providers who work directly with their customers to execute sound business decisions in real time, when the game is on the line.
Not your average Monday morning quarterback
Jarrett Logistics Systems (JLS) is a non-asset based 3PL who provides transportation management solutions to companies throughout North America. We become an extension of our customers' businesses, provide world-class responsiveness and deliver more control, next-level visibility and proactive supply chain performance.
An Extension of your Business
Our dedicated customer account teams are made up of 6-8 logistics professionals who know your business, your requirements and your preferences
World Class Responsiveness
The JLS Routing Center is available 24/7/365
Clients receive a dedicated 800 number for a personalized, professional customer experience
The average answer time for a live person is 8.5 seconds or less. That's 3 rings! And no voicemails
More Control
Shipment status updates on all shipments
Notifications on "exception/potential" shipments that may not make it
Vendor compliance and shipment optimization
Next Level Visibility
Know when and where all of your inbound, outbound and third-party shipments will arrive & expectations need to be reset.
Dynamic business intelligence tools that provide KPI's and carrier performance data at your fingertips
Proactive Supply Chain Performance
Stay out in front of your supply chain
Reduce the surprises and fight fewer fires
We see trends occurring prior to you reading about them in the industry magazines & reports
The right partners and systems make all the difference. Everyone talks about the game when they go back to work on Monday, but how many people are willing and able to be in the trenches with you making decisions that will affect the outcome of your performance?