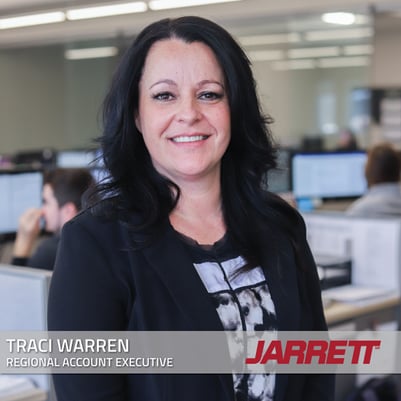 Our people are the essential part of our award-winning workplace culture and excellent customer service. They are the foundation of The Jarrett Difference. We are proud to have these people as a part of our Jarrett team.
We'd like to introduce you to Traci Warren, Regional Account Executive here at Jarrett. Read her answers to the questions below to find out more about Traci!
How long have you been at Jarrett?
2 years
What is the best part of working in your department?
The best part of my department is the encouragement from everyone around me to do well. Whatever I need from my team, I am provided, even if it's just a little pep-talk.
If you weren't in sales, what job would you have?
I would work at Zephyrs and be a part of people achieving their personal goals in their health and wellness!
Favorite memory at Jarrett so far?
Every day I spent on the Truckload team.
Who has been a mentor for you here at Jarrett? How have they helped you?
Jason Moore and Chris Palazzo. They showed me the ropes and encouraged my growth here at Jarrett. It led me on a path away from them but I had their full support and mentorship in getting here.
What would you name the autobiography of your life?
"Beatitude"
What is one skill you wish you had?
A sense of direction
If you could learn to do anything, what would it be?
Metal Art and Sculpturing
What chore do you wish would do itself?
Laundry
What fictional character would you be?
I know I should choose one of the greats in literature, but me …I choose Wonder Woman.
We are grateful to have Traci here at Jarrett. If you are interested in being a part of our team, visit our careers page.
For more Employee Spotlights, check out our blog!