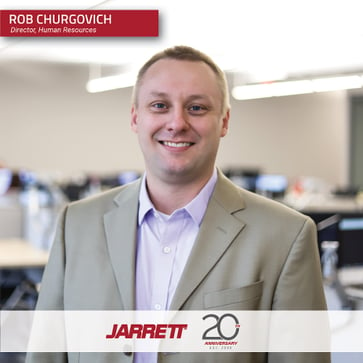 We are celebrating our 20th anniversary by highlighting our 20 most tenured employees!
Next up is Rob Churgovich, the Director of Human Resources here at Jarrett. Read his answers below to find out more about Rob and his experience at Jarrett throughout the years!
Describe your job in 20 words or less?
Provides leadership and oversight for all HR functions and team; develops and directs HR strategies and initiatives.
Favorite memory at Jarrett so far?
In the same summer, due to having more employees than work stations, we expanded into two new site locations; our Routing Center, and our 1781 warehouse. This memory stands out to me, because it was a very evident way to see our tangible growth.
What is your favorite quote?
"There is no limit to what a man can do or how far he can go if he doesn't mind who gets the credit" – Robert Woodruff.
What is your biggest goal right now?
To maintain and strengthen our company culture, to meet the demands and expectations for future growth, and to help every employee realize their full potential.
Why did you decide to join and stay with Jarrett?
Throughout the interview process at Jarrett, I could feel the culture through the people I met. It was the first interview where the interviewers really tried to get to know me, and I could see the teamwork in full display. My reason to stay with Jarrett is consistent with why I joined – It's one big family, and I'm surrounded by people who care, and we all share the same core values.
Which employee perk does Jarrett offer that you enjoy the most? Why?
The 401k match and the Health Savings Account are extremely helpful. I'm all about preparation, and the company match up to 4% on the retirement plan, and the $1800 the company fully vests a year into my family HSA plan, gives me peace of mind for the future.
Who has been a mentor for you here at Jarrett? How have they helped you?
I have learned something from everyone I've worked with at Jarrett, and would be impossible to choose one person. However, I owe a lot to the amazing team I am fortunate enough to lead. They have helped me learn about myself, have been an invaluable sounding board for ideas, and have challenged me to always give my best.
What advice would you give to recent new hires?
Don't be afraid to ask questions. No matter what position or department you're in, the learning curve is steep. Questions allow the trainer to understand where you're at in the process, and what we need to focus on to get you up to speed.
What is the biggest lesson you've learned in your time at Jarrett?
Always look ahead, and be honest with yourself when it comes to your time – it is a simple principal, but if we only assess the needs of today, we may be behind for tomorrow, or have overextended ourselves.
How have you seen the organization and/or industry change over the course of time that you've been at Jarrett?
A strong economy is evident through the organic growth of our customers. When our customers are producing more, we see our business levels increase as a result.
How does your team provide value to Jarrett clients?
Since I work in HR, we consider our employees to be our clients. Whether it is staffing for a team, on-boarding a new employee, helping with enrollment in insurance or the 401k, or providing guidance through a situation, every employee has specific needs that the HR department can be of service to that person.
How has technology evolved in your time at Jarrett?
Technology (most notably, JShip) has always been a competitive advantage of Jarrett, but it's impressive to look back on the earlier years, in comparison to present day. The use of data analytics has been an improved solution to our customers through reporting, and internally, helps us make objective decisions. We have also automated multiple internal processes through technology, that has improved efficiency and accessibility to our employees.
How does Jarrett and their employees serve the community?
We hold several types of drives and volunteer opportunities through the Salvation Army every year. We also partner with the Make-A-Wish Foundation every December to collect Christmas presents for less-fortunate children.
How would you define Jarrett's success?
We are a customer-centric organization. As long as we are building a partnership and relationship with the customer, doing what's best for the customer, fully utilize technology, and employ strong character teams to handle our customers, we will continue to grow and experience success.
How has the client experience changed?
Overall, we are still providing the same, great service. However, we have made an effort to go above and beyond to build very strong relationships with our clients.
What do you envision Jarrett looking like in the next 20 years?
Mike and Diane Jarrett have built a very strong, character based business model that is not only sustainable, but scalable. The next 20 years will no doubt be full of new challenges and highlights – I am excited to be a part of the journey!
What lessons have you learned in the past 20 years that will impact the next 20?
Failure is often a predecessor to success. There have been multiple times where I've tried something, and it doesn't work. Or, I've made the wrong decision. The culture at Jarrett gives latitude to employees to try new things, use creativity, and make judgment calls, in a controlled environment. I believe this will be an important key to maintain in our success over the next 20 years. We will all face failures, but want to empower those around us, work together to share our knowledge, learn from mistakes, and turn a failure into a success.
What advice would you give your 20-year-old self?
Listen to your parents! I have given them limitless "I told you so" moments…
What was your favorite song when you were 20?
I think I was going through a classic rock phase at the time, and can't remember a specific song; but it would be a fair assumption that it was an Eric Clapton song.
What job did you have when you were 20?
I worked for a construction/property management company, working as either as the Lead Gopher on a construction site, or landscaping.
We are grateful to have Rob here at Jarrett. If you are interested in being a part of our team, visit our careers page.
For more Employee Spotlights, check out our blog!