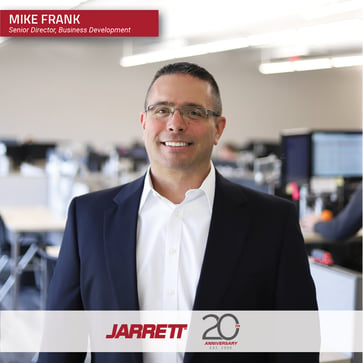 We are celebrating our 20th anniversary by highlighting our 20 most tenured employees!
Next up is Mike Frank, Senior Director of Business Development, here at Jarrett. Read his answers below to find out more about Mike and his experience at Jarrett throughout the years!
Describe your job in 20 words or less?
I help companies improve operations processes and supply chain visibility while reducing freight costs.
Favorite memory at Jarrett so far?
Landing a large client and traveling for an implementation meeting to MX.
What is your favorite quote?
"Put it on the board!!!!"
What is your biggest goal right now?
Hit target every year.
Why did you decide to join and stay with Jarrett?
It was a good, small company when I joined and has grown into a good, mid-sized company with a fun atmosphere.
Which employee perk does Jarrett offer that you enjoy the most? Why?
The Health and Wellness program. It keeps me focused on healthy goals and provides some money for new running shoes or gym membership if the goals are hit.
Who has been a mentor for you here at Jarrett? How have they helped you?
Matt Angell. Matt really helped me learn more about operations and assisted with larger sales calls.
What advice would you give to recent new hires?
Work hard and you will be rewarded.
What is the biggest lesson you've learned in your time at Jarrett?
Stay the course. Find a sales method that works and constantly evolve over time.
How have you seen the organization and/or industry change over the course of time that you've been at Jarrett?
The company has increased annual sales by over 400% since I started. The marketing department has grown from one person to 6 and they have done some really awesome things.
How does your team provide value to Jarrett clients?
The marketing team provides me with new prospects to call on for the next big deal. They also put together marketing literature and some unique marketing gifts. They help work through challenges in our CRM system.
How has technology evolved in your time at Jarrett?
It has been faster and more reliable, plus provides a wealth of information.
How does Jarrett and their employees serve the community?
Through philanthropic endeavors with the Salvation Army, and other community programs.
How would you define Jarrett's success?
Hard work and integrity.
How has the client experience changed?
Real time information is available faster, plus if a customer has a special request, we can adjust on the fly quickly.
What do you envision Jarrett looking like in the next 20 years?
I see Jarrett reaching incredible new goals in 20 years, not only financially, but through technology.
What lessons have you learned in the past 20 years that will impact the next 20?
Patience and to have a good attitude at all times.
What advice would you give your 20-year-old self?
Work smarter not harder.
What was your favorite song when you were 20?
Fight the Good Fight by Triumph.
What job did you have when you were 20?
I delivered parcel in the morning from 8-1 pm and supervised 20 afternoon drivers and our outbound operation for Airborne Express from 2-10 pm.
We are grateful to have Mike here at Jarrett. If you are interested in being a part of our team, visit our careers page.
For more Employee Spotlights, check out our blog!