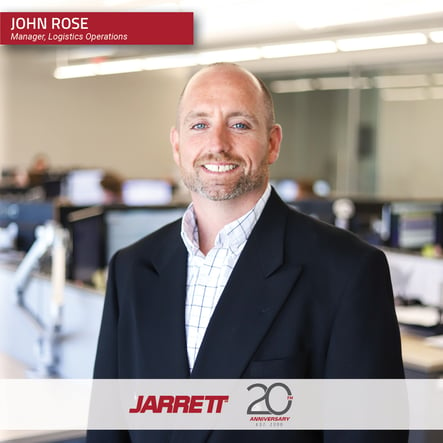 We are celebrating our 20th anniversary by highlighting our 20 most tenured employees!
Next up is John Rose, Manager of Logistics Operations here at Jarrett. Read his answers below to find out more about John and his experience at Jarrett throughout the years!
Describe your job in 20 words or less?
Dynamic, Fluid, Exciting, Analytical, Problem Solving, Teamwork, & Partnership
Favorite memory at Jarrett so far?
Starting up new customer locations in the Pacific NW!
What is your favorite quote?
"UNLESS someone like you cares a whole awful lot, nothing is going to get better. It's not."- The Lorax
What is your biggest goal right now?
My biggest goal right now is to put my employees in the best possible positions to succeed regarding both professional and company goals.
Why did you decide to join and stay with Jarrett?
Jarrett Logistics offered me the opportunity to work closer to home. We have an outstanding culture throughout the organization. Jarrett has had tremendous growth since I started as well and it has been fun to be a part of a growing and fast paced company!
Which employee perk does Jarrett offer that you enjoy the most? Why?
I enjoy the ½ off gym membership at Zephyrs because it gives me an opportunity to work on my physical well-being throughout the day.
Who has been a mentor for you here at Jarrett? How have they helped you?
I have had several outstanding mentors here at Jarrett help me along the way. There are too many to list, and I am thankful for each one of them!
What advice would you give to recent new hires?
Ask questions, communicate, and participate.
What is the biggest lesson you've learned in your time at Jarrett?
When I started at Jarrett, I was very green to the industry. There are so many valuable lessons that I have learned, it would be impossible to narrow it down to just 1.
How have you seen the organization and/or industry change over the course of time that you've been at Jarrett?
Our organization stays ahead of the curve in a constantly changing industry. The industry has changed so much since I first started with new technology initiatives leading the change.
How does your team provide value to Jarrett clients?
My team operates one of the most complex and hands-on clients here at Jarrett. We have been an important part of our company's growth both financially and operationally as we have expanded services to our clients and now have a Jarrett Ops team on the west coast!
How does Jarrett and their employees serve the community?
Civic responsibility is a core value here at Jarrett. We offer opportunities to volunteer at local community service programs that help connect employees working together for a great cause.
How would you define Jarrett's success?
Success is defined in many ways to many different people. I have seen our company grow from 25 employees to one of over 150! Great people are the key to our success, and it has been awesome to see so many great additions to the Jarrett team!
How has the client experience changed?
Our technology platform continues to grow here at Jarrett making communication with our teams effortless for our clients.
What do you envision Jarrett looking like in the next 20 years?
I am excited to see what Mike and Diane have in store for the future of Jarrett. They are always looking to take on more opportunities for their business, and I can't wait to see what they do next!
What lessons have you learned in the past 20 years that will impact the next 20?
Communication is key. It took me a while to figure this one out, but it is critical.
What advice would you give your 20-year-old self?
Be brave and make decisions that will help you find happiness throughout life!
What was your favorite song when you were 20?
That was a while back, but probably something by Nirvana, Pearl Jam or The Smashing Pumpkins!
What job did you have when you were 20?
I worked at a pizza shop and was a camp counselor for a summer camp at a day care.
We are grateful to have John here at Jarrett. If you are interested in being a part of our team, visit our careers page.
For more Employee Spotlights, check out our blog!