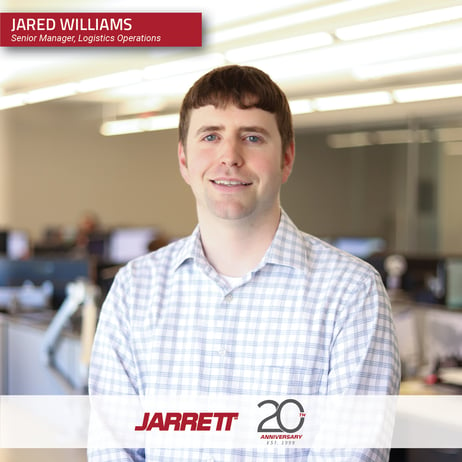 We are celebrating our 20th anniversary by highlighting our 20 most tenured employees!
Next up is Jared Williams, Senior Manager of Logistics Operations here at Jarrett. Read his answers below to find out more about Jared and his experience at Jarrett throughout the years!
Describe your job in 20 words or less?
I support a team of logistics professionals who deliver exceptional customer care and solve complex problems each day.
Favorite memory at Jarrett so far?
It's hard to choose just one, I enjoy how well our team works together and can share personal and professional experiences.
What is your favorite quote?
What you do has far greater impact than what you say – Stephen Covey
What is your biggest goal right now?
I want to continue to support my team through their professional development.
Why did you decide to join and stay with Jarrett?
I joined Jarrett almost 6 years ago and I accepted the job because I was looking for a new start. By joining Jarrett I not only found my new start, but a culture that meets my own values.
Which employee perk does Jarrett offer that you enjoy the most? Why?
401K Match, I'm a planner so I want to be sure that I am planning for my future.
Who has been a mentor for you here at Jarrett? How have they helped you?
I have many mentors that have provide me guidance both from tactical operations to strategic planning. On top of that my fellow logistics managers are great mentors and we strive to help each other succeed.
What advice would you give to recent new hires?
Jarrett is a place that you can thrive if you work hard and remember to keep the core values in the forefront of everything you do.
What is the biggest lesson you've learned in your time at Jarrett?
As much as you think you know, there is always someone with more knowledge. This is something I truly appreciate; we have great individuals however our strength is what we are able to achieve as a team.
How have you seen the organization and/or industry change over the course of time that you've been at Jarrett?
The industry is constantly changing and by keeping up to date with these coming changes is what makes us very good at what we do.
How does your team provide value to Jarrett clients?
My teams add value to our customers by providing an extension of our culture to other organizations. We strive to be the best and that is what our team works for each day.
How has technology evolved in your time at Jarrett?
Our platform, JShip has seen many integrations over my time at Jarrett. Each of these integrations are to fully support the growing needs of our internal and external clients.
How does Jarrett and their employees serve the community?
The Jarrett team respects the community that we work in, and do what we can to give back. That might be providing actual time, donating money or just being an advocate for an organization in the community.
How would you define Jarrett's success?
Culture! Through excellent leadership we have been able to maintain the culture that has made us successful.
How has the client experience changed?
The client experience has only changed by what new options we give to our customers on how they want to work with Jarrett. The core experience has been and will always be exceptional service.
What do you envision Jarrett looking like in the next 20 years?
With our people, skills and industry expertise, there is going to be very little that will hold us back to reaching our goals. There is no doubt that the next 20 years will be dynamic.
What lessons have you learned in the past 20 years that will impact the next 20?
I've personally learned that helping people achieve their goals and being supportive can help you in ways that that you may never realize.
What advice would you give your 20-year-old self?
Ask more questions and network, you never know who you may need in the future.
What was your favorite song when you were 20?
Didn't have a favorite, but have always enjoyed country music.
What job did you have when you were 20?
I worked as a Senior Team Leader for Target.
We are grateful to have Jared here at Jarrett. If you are interested in being a part of our team, visit our careers page.
For more Employee Spotlights, check out our blog!