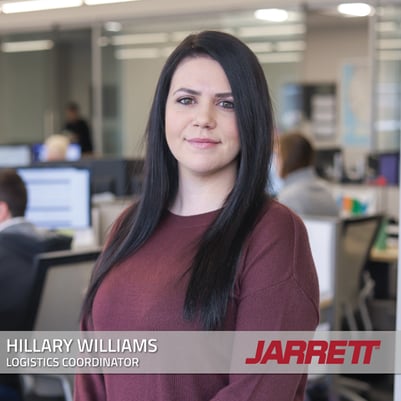 Our employees are the foundation of our award-winning workplace culture and excellent customer service. We are proud to have these people as a part of our Jarrett team.
We'd like to introduce you to Hillary Williams, Logistics Coordinator here at Jarrett. Read her answers to the questions below to find out more about Hillary!
How long have you been at Jarrett?
Five years!
What is the best part of working in your department?
The teamwork, I love working in CAT 2. We have a lot of carry-ins and always have fun. On a serious note, getting to work together as a team and knowing they always have your back is such an important part of our team and helps us all succeed on a day-to-day basis.
If you weren't in operations, what job would you have?
I have my cosmetology license, so I would probably still be in that industry if I hadn't found Jarrett.
Favorite memory at Jarrett so far?
I was walking into work one morning with Natalie and Kourtney, carrying a coffee. The coffee jumped out of my hands (this was witnessed) and spilled all over the windows and carpet of the back entrance to 1444. Jared walked in at the perfect moment telling me, "This is why we can't have nice things." The three of us couldn't stop laughing, it was such a production and such a mess. Thank goodness I had Natalie and Kourtney to help me clean it up, but to this day every time one of us thinks about it we have to bring it up so we can all laugh about it again!
Who has been a mentor for you here at Jarrett? How have they helped you?
Dawn and Bill have been my mentors over these past five years. They have always been there to support me and I appreciate them.
What would you name the autobiography of your life?
Disney Dreamer
What is one skill you wish you had?
I wish I was a better cook. I love food, but I'm not great at making it on my own.
If you could learn to do anything, what would it be?
Forensics.
What chore do you wish would do itself?
Putting away laundry. I don't mind doing the laundry, but having to put it all away is awful.
What fictional character would you be?
Wednesday Addams.
We are grateful to have Hillary here at Jarrett. If you are interested in being a part of our team, visit our careers page.
For more Employee Spotlights, check out our blog!