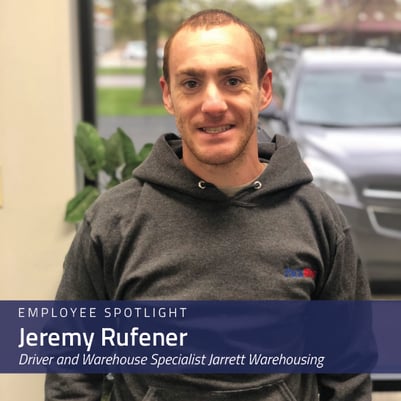 At Jarrett, the difference is OUR PEOPLE. Our employees are the foundation of our award-winning workplace culture and excellent customer service. We are proud to have these people as a part of our Logistics, Warehousing and Fleet Services team.
We'd like to introduce you to Jeremy Rufener, Driver and Warehouse Specialist for Jarrett Warehousing. Read his answers to the questions below to find out more about Jeremy!
1. How long have you been at Jarrett?
I have been at Jarrett since July 2019.
2. What is the best part of working in your department?
The best part of being in warehousing is driving the trucks!
3. What is your favorite memory at Jarrett so far?
My favorite memory is the time I was able to go to West Virginia.
4.Which employee perk do you enjoy the most? Why?
I really enjoy the opportunity to do CrossFit at CrossFit Orrville!
5.Who has been a mentor for you at Jarrett?
One of my mentors has been Corey Palitto, the other one, David Franks.
6.If you could learn to do anything what would it be?
I would be interested in learning the requirements to be a DOT driver.
7. How is Jarrett "Different"?
Jarrett provides great hours and work environment. Everyone here is kind and enjoyable.
8. We asked a co-worker, "What difference does Jeremy make at Jarrett?" This is what he said:
"Jeremy helps create a positive work environment and makes the day go by fast by completing work quickly."
9. Name a time you felt valued or appreciated by someone at Jarrett or by a customer.
The first time Brandon told me to drive the truck, I was appreciative that he trusted me to do so!
We are grateful to have Jeremy here at Jarrett. If you are interested in being a part of our team, visit our careers page.
For more Employee Spotlights, check out our blog!