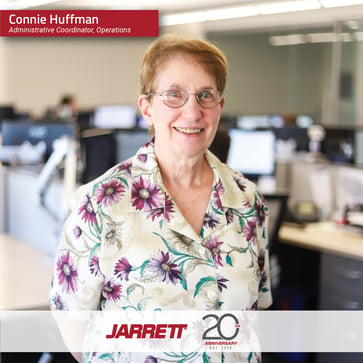 We are celebrating our 20th anniversary by highlighting our 20 most tenured employees!
Next up is Connie Huffman, Administrative Coordinator in Operations here at Jarrett. Read her answers below to find out more about Connie and her experience at Jarrett throughout the years!
Describe your job in 20 words or less?
I provide support for operations, generate commission reports for DBD's, make collections calls.
Favorite memory at Jarrett so far?
There are a lot of good memories – good people, great work environment, forming some lasting friendships
What is your favorite quote?
There are several from Theodore Roosevelt:
"The only man who never makes mistakes is the man who never does anything." (insert woman!!)
"People don't care how much you know until they know how much you care."
"When you're at the end of your rope, tie a knot and hold on." (And I've had to do this several times in my life.)
What is your biggest goal right now?
To stay ahead of my favorite people – the ones who owe us money
Why did you decide to join and stay with Jarrett?
I needed a job. My niece was working here at the time & told me JLS was hiring. The rest is history – but I've stayed because it is the best place I've ever worked. I do what I need to do without being micro-managed. I'm pretty much left alone to do my job. But I ask for help when or if I need it.
Which employee perk does Jarrett offer that you enjoy the most? Why?
There are many perks for us. The biggest one is the 401(k) and the match provided by the company. The fact that our match here is more than what is industry standard (3%), that makes it a more attractive perk. The health and wellness program is also extremely generous. We are given many options to "earn" money in our account and all of those opportunities help keep us healthier. The environment here is one of the best perks we have, because it is an extremely good environment.
Who has been a mentor for you here at Jarrett? How have they helped you?
My manager I had when I started here, Mike Wolfinger, taught me a lot. I had no idea what a 3PL was or what we did. I asked him a lot of questions, but he was always patient with me and answered. He also taught me more about Excel than I knew when I walked in the door. The work he gave me would lead to more questions, but that's how I learned what we do. He is no longer here, but he gave me a very good foundation to build on.
What advice would you give to recent new hires?
Be a sponge. Absorb all you can from others who are here. Ask questions and take notes so you don't forget. There is a lot going on here so sometimes it's hard to keep it all straight, but give it time, it will become easier and you will learn more each day, which will make you a more valuable employee.
What is the biggest lesson you've learned in your time at Jarrett?
I have continued to learn better how to approach doing collections. I'd done collections at my job prior to coming here, but I've been doing it for over 12 years here now and I continue to learn. I've learned more about our customers. I've learned to listen for what they may not be saying but is an underlying message if I'm paying attention. That gives me a better idea of how to handle their particular situation because one thing I have learned in my years of collections experience is that every situation is different and unique to every person. There is no cookie-cutter answer that will fit every situation. Although I have some standard answers or plans, I need to be flexible in order to work with each customer to reach a good conclusion.
How have you seen the organization and/or industry change over the course of time that you've been at Jarrett?
When I started here, there were 2 cat teams of 4 people each for JLS! We weren't even using the south end of the building at 1347. They were still working on getting it ready to move the JLS cat teams to the other side of the wall. All the PackShip & JLS employees were where PackShip is now when I started here. I think we had 20 customers when I started.
How does your team provide value to Jarrett clients?
I have not been on a team like most others here. Although I've never taken calls from our customers or a carrier regarding getting freight moved from point A to point B, I like to think I've been able to provide some value to our clients. Most of my interaction with our clients is of a different nature – I'm calling them to ask for money when their account is past due. That's when I'm doing my favorite thing I do around here – collecting our money. In my conversations with our customers, I try not to be adversarial but helpful as in working out a plan to get us paid without putting that customer in a worse situation than they may already be in or leave a bad taste because I'm so hard-nosed about it. I give them a chance to voice grievances (and there are some), work out problems with shipments or claims, then still reach an agreement about getting a payment to us. I have also been able to build some very good relationships with our customers over the years. I hear about their new baby, their new house, their new husband their pets or whatever it may be. They sometimes even send me pictures. I keep every one of them to remind me of whom I am talking to the next time I may need to reach out to them for money.
How has technology evolved in your time at Jarrett?
I've seen jShip become more powerful and have more features than it did years ago. Our other technology has also advanced with some the addition of an analysis team who continues to develop new reports for us and also for our customers to have access to.
How does Jarrett and their employees serve the community?
Mike and Diane make sure that there are opportunities for any of us to get involved in community projects if we want to. The biggest is probably the Christmas trees we have with decorations on them with needs of children in Wayne county. At the same time, we also have a food drive for the Salvation Army. There are also other opportunities during the year to participate in community activities that help us give back. Some of us are also involved in programs at our churches that reach out to the community, from children's programs to food pantry.
How would you define Jarrett's success?
Good planning, a well-thought out long-range plan for growth, no matter if it is JLS, PackShip or Jarrett Fleet Services. But more than that is good leadership from Mike and Diane and a genuine caring about us, their employees.
How has the client experience changed?
Our client list has grown in the years I've been here and they want more from us than when I first started. They want special reports, with more information than we've had in the past, so their requests force us to grow and change to give them what they ask for so they can make better business decisions about their company.
What do you envision Jarrett looking like in the next 20 years?
I predict bigger and better!
What lessons have you learned in the past 20 years that will impact the next 20?
I've learned a lot in my lifetime, not just the last 20 years. Some have been very hard lessons. But you learn the most from the hardest lessons, I think. I've learned to be not so hard on myself, although I still am to a certain extent. I've also learned to be very careful when talking to our customers when collecting our money because you never know what they are going through in their own personal life which is impacting their business life. They are more apt to make a payment to us if I'm careful when I'm talking to them, building that relationship with them so they will be more willing to pay us rather than paying their money to someone who is threatening them in a harsh way.
What advice would you give your 20-year-old self?
Find a place with a good environment that encourages growth not only in the business sense but also helps you grow as an individual, to become more productive, more caring, more giving of yourself, both at work and in your personal life.
What was your favorite song when you were 20?
I don't know – that was more than 50 years ago! I can only say that music sure has changed in the last 50 years…and not for the better in most instances. These days, I like to listen to Classical music when I have music on or Gospel music from my favorite group from my church, The Representatives.
What job did you have when you were 20?
My first "real job" was at American Greetings in Cleveland. I worked in the re-order department. I stayed a few years, just long enough to save some money for college, then I quit so I could go to college. My dad wasn't very happy with me!!
We are grateful to have Connie here at Jarrett. If you are interested in being a part of our team, visit our careers page.
For more Employee Spotlights, check out our blog!