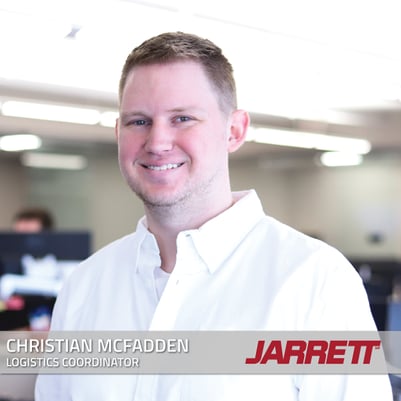 Our employees are the foundation of our award-winning workplace culture and excellent customer service. We are proud to have these people as a part of our Jarrett team.
We'd like to introduce you to Christian McFadden, Logistics Coordinator, here at Jarrett. Read his answers to the questions below to find out more about Christian!
How long have you been at Jarrett?
2 years, 3 months
What is the best part of working in your department?
Working in operations provides the opportunity to meet with and also develop relationships with our customers. I really enjoy managing the day to day processes.
If you weren't in (sales, operations, claims, etc.), what job would you have?
I would likely be in an IT related role.
Favorite memory at Jarrett so far?
All of the office pranks and laughs with co-workers, we have a lot of fun.
Who has been a mentor for you here at Jarrett? How have they helped you?
There are so many, but particularly Jared Williams and Ethan Liskey. They have been able to identify what motivates me and then target that, as well as being a wealth of industry knowledge.
What would you name the autobiography of your life?
Rollercoaster
What is one skill you wish you had?
Computer Programming
If you could learn to do anything, what would it be?
Professional Woodworking. There is something therapeutic about woodworking.
What chore do you wish would do itself?
Mowing the lawn, robotic mowers are looking like a great option.
What fictional character would you be?
Jim from The Office
We are grateful to have Christian here at Jarrett. If you are interested in being a part of our team, visit our careers page.
For more Employee Spotlights, check out our blog!