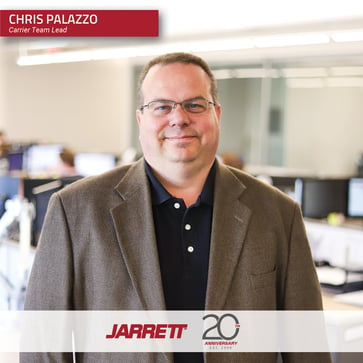 We are celebrating our 20th anniversary by highlighting our 20 most tenured employees!
Next up is Chris Palazzo, Carrier Team Lead, here at Jarrett. Read his answers below to find out more about Chris and his experience at Jarrett throughout the years!
Describe your job in 20 words or less?
To provide support and industry knowledge to our external and internal customers so they can make the best business decisions.
Favorite memory at Jarrett so far?
The excitement of the growth of all the Jarrett companies.
What is your favorite quote?
"Winning is not everything, but wanting to win is." - Vince Lombardi
What is your biggest goal right now?
To increase margin and control cost
Why did you decide to join and stay with Jarrett?
Jarrett shares the same integrity as I hold in business.
Which employee perk does Jarrett offer that you enjoy the most? Why?
Increased personal days, instead of sick days. Allow greater flexibility for time off.
Who has been a mentor for you here at Jarrett? How have they helped you?
Matt Angell. His example of leadership and confidence in me.
What advice would you give to recent new hires?
Learn all you can and explore all that Jarrett Companies have to offer for your career growth.
What is the biggest lesson you've learned in your time at Jarrett?
Don't worry about not having the answer, since there are plenty of people or resources to help you achieve the solution.
How have you seen the organization and/or industry change over the course of time that you've been at Jarrett?
The growth and opportunity at Jarrett is AMAZING! Even in market downturns, Jarrett continues to grow.
How does your team provide value to Jarrett clients?
We provide TL carrier solutions to the Brokers and CAT teams to service client's needs, while vetting TL carriers to exceed industry standards.
How has technology evolved in your time at Jarrett?
I like that Jarrett will use ideas from the users to improve jShip, while also contracting with best practices from other tech industry solutions.
How does Jarrett and their employees serve the community?
Jarrett is very open to helping the community around the holidays and throughout the year.
How would you define Jarrett's success?
Long term vision builds on sound business practiced on a foundation of integrity.
How has the client experience changed?
The client experience changes with the client's needs
What do you envision Jarrett looking like in the next 20 years?
I see expansion in current business, while adding solutions as new opportunities are explored.
What lessons have you learned in the past 20 years that will impact the next 20?
There is no limit to the possibilities at Jarrett….
What advice would you give your 20-year-old self?
Learn , learn and keep learning !
What was your favorite song when you were 20?
Money for Nothing – Dire Straits
What job did you have when you were 20?
Landscaper with Palazzo and Sons Landscaping
We are grateful to have Chris here at Jarrett. If you are interested in being a part of our team, visit our careers page.
For more Employee Spotlights, check out our blog!