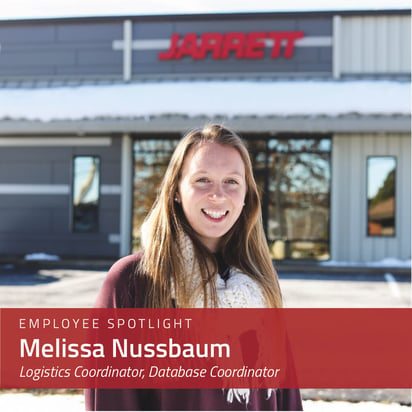 At Jarrett, the difference is OUR PEOPLE. Our employees are the foundation of our award-winning workplace culture and excellent customer service. We are proud to have these people as a part of our Logistics, Warehousing and Fleet Services team.
We'd like to introduce you to Melissa Nussbaum, Database Coordinator for Jarrett. Read her answers to the questions below to find out more about Melissa!
How long have you been at Jarrett?
Just over two years.
What is the best part of working in your department?
Definitely my co-workers! They are a great group of people and we collaborate so well together!

Favorite memory at Jarrett so far?
Probably just all of the carry ins we have had!

What is your favorite quote?
"Eat, you'll feel better" – Remus Lupin (Harry Potter and the Prisoner of Azkaban)

Which employee perk that Jarrett offers do you enjoy the most? Why?
I would say the Wellness Program. It encourages us to make healthy choices and to keep in the habit to better ourselves.

Who has been a mentor for you here at Jarrett? How have they helped you?
I would say Duke Price & Jesse Sansom. They first trained me when I started here at Jarrett, and have allowed me to try out new ideas and really make my position here my own, while providing guidance and help along the way.

What would you name the autobiography of your life?
Is it Dessert or Desert?

If you could learn to do anything, what would it be?
This is a tough question! I would like to learn how to master cake/cupcake decorating!

How is Jarrett "different"? (Compared to other company cultures you may have experienced)
Everyone generally gets along here! You can go up to anyone and ask for help, or advice about work of life, and you get honest, sincere answers!

How is Jarrett "different"? (Compared to other competitive, similar services)
I think that our human connection with our customers is what makes us stand out, you get a dedicated person to help you with your needs, not an automated phone system or email, a real person. And I think that being able to get another person on the line means so much more in customer service!
Ask a co-worker: What difference does Mel make at Jarrett?
"Mel's
attention to detail, problem solving skills and ability to turn requests around quickly and efficiently has been extremely helpful to the sales team. Many of the requests from sales are short notice which is a challenge if she is working on other projects, but she always comes through in the clutch.

In addition to the difference she makes with quality work and response time, Mel is a joy to be around. She always is smiling and upbeat which is infectious to others on our team. She is an excellent baker and has been very generous with her time and talents by bringing in delicious snacks to keep the teams spirits up.

Another difference she makes is her ability to run 5K's and dedication to running. It has inspired me to set goals for running in 2021.

Melissa is a true difference maker helping make my job and others more productive. We are lucky to have Mel at Jarrett!"
- Mike Frank

Name a time you felt valued or appreciated by someone at the company or by a customer.
One of the cool aspects of my job is I get to work one-on-one with the sales team on a daily basis… and seeing them get in contact with someone and then come back and reach out and go, "that person was the perfect point of contact", is a good feeling!
We are grateful to have Melissa here at Jarrett. If you are interested in being a part of our team, visit our careers page.
For more Employee Spotlights, check out our blog!