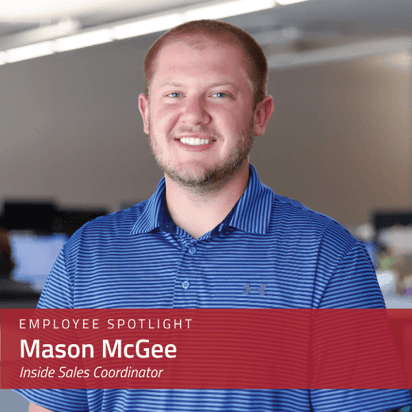 At Jarrett, the difference is OUR PEOPLE. Our employees are the foundation of our award-winning workplace culture and excellent customer service. We are proud to have these people as a part of our Logistics, Warehousing and Fleet Services team.
We'd like to introduce you to Mason McGee, Inside Sales Coordinator for Jarrett. Read Mason's answers to the questions below to find out more about him!
How long have you been at Jarrett?
I interned at Jarrett in the summer of 2019 and started full time in July of 2020.
What is the best part of working in your department?
For me, the best part is my teammates. We all work together very well, and they are a pleasure to be around. I also enjoy learning about and staying up to date on the Truckload market.
Favorite memory at Jarrett so far?
My favorite memory at Jarrett so far would be playing in the cornhole tournaments we used to have on our lunch breaks.
What is your favorite quote?
"If you ain't first, you're last." - Ricky Bobby
Which employee perk that Jarrett offers do you enjoy the most? Why?
The employee discount at Zephyrs gym.
What would you name the autobiography of your life?
"You're not gonna believe this, but..."
If you could learn to do anything, what would it be?
How to play the guitar.
How is Jarrett "different"? (Compared to other company cultures you may have experienced)
The utilization of teamwork really makes Jarrett stand out from other company cultures.
How is Jarrett "different"? (Compared to other competitive, similar services)
The high-touch service we give our customers, they always come first.
Ask a co-worker: What difference does Mason make at Jarrett?
"He always has a positive attitude and that has a positive impact on the rest of us. He is always willing too help out wherever he can." - Ryan Boyd
Name a time you felt valued or appreciated by someone at the company or by a customer.
I felt really appreciated when I applied for the full-time job at Jarrett after my internship here. Many co-workers were excited to see me coming back to Jarrett too work full time.
We are grateful to have Mason here at Jarrett. If you are interested in being a part of our team, visit our careers page.
For more Employee Spotlights, check out our blog!