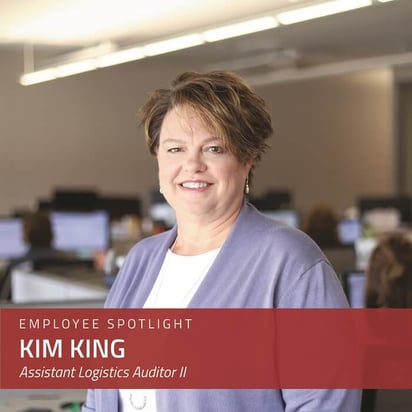 At Jarrett, the difference is OUR PEOPLE. Our employees are the foundation of our award-winning workplace culture and excellent customer service. We are proud to have these people as a part of our Logistics, Warehousing and Fleet Services team.
We'd like to introduce you to Kim King, Assistant Logistics Auditor II for Jarrett. Read Kim's answers to the questions below to find out more about her!
How long have you been at Jarrett?
I have been at Jarrett for one and a half years.
What is the best part of working in your department?
I have enjoyed getting to know the auditors on a more personal level since we were all placed together in the Huntington Building. I am also thankful to how welcoming the "Huntington Crew" has been since we moved over to their building.
Favorite memory at Jarrett so far?
Christmas Decorating 2019 - we made a snow globe in one of our offices. Also, pre pandemic it seems like we always had a reason for a carry in or celebration! (I miss that!)
What is your favorite quote?
"Faith as small as a mustard seed can move mountains" - Matthew 17:20
Which employee perk that Jarrett offers do you enjoy the most? Why?
The employee discounted gym membership.
Who has been a mentor for you here at Jarrett? How have they helped you?
It's hard to name just one person - ALL of the auditors have been such great resources. Micah Palitto has also taught me so much from an operations standpoint.
What would you name the autobiography of your life?
"Never Say Never"
If you could learn to do anything, what would it be?
Cake and Cookie decorating - I think that will be a retirement project someday.
How is Jarrett "different"? (Compared to other company cultures you may have experienced)
At Jarrett I don't feel like I am just a number. I appreciate that my Jarrett family really does care. I appreciate that when Mike comes around the office he makes it a point to mention us all by name when talking to us.
How is Jarrett "different"? (Compared to other competitive, similar services)
Jarrett offers hands on service. I feel like we go above and beyond to make sure our customer is happy - we build relationships with our customers. Little things really do make a difference.
Name a time you felt valued or appreciated by someone at the company or by a customer.
When we came back to the office it was a nice surprise to have not only a t-shirt and gift card at my desk, but also a handwritten card from my manager welcoming me back to the office.
We are grateful to have Kim here at Jarrett. If you are interested in being a part of our team, visit our careers page.
For more Employee Spotlights, check out our blog!