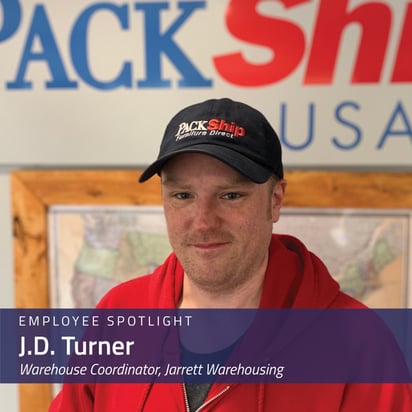 At Jarrett, the difference is OUR PEOPLE. Our employees are the foundation of our award-winning workplace culture and excellent customer service. We are proud to have these people as a part of our Logistics, Warehousing and Fleet Services team.
We'd like to introduce you to JD Turner, Warehouse Coordinator for Jarrett. Read his answers to the questions below to find out more about JD!
How Long have you been at Jarrett?
What is the best part of working in your department?
I enjoy seeing the different types and styles of furniture we get to pack up.
Favorite memory at Jarrett so far
?
I can't pick out one specific time but I enjoyed working with my brother-in-law. We didn't spend much time together prior to us working together and it brought us closer.
What is your favorite quote?
"Discipline equals freedom" – Jocko Willick
Which employee perk that Jarret offers do you enjoy the most? Why?
Free lunches- everyone loves a free lunch!
Who has been a mentor for you here at Jarrett? How have they helped you?
Dylan Westerhoff. I've learned a lot about the lean manufacturing method of warehousing.
What would you name the autobiography of your life?
If you could learn to do anything, what would it be?
I've owned a bass guitar for over 15 years, someday I'll learn to play It well.
How is Jarrett "different" compared to other company cultures you may have experienced?
Jarrett is more open to change than any company that has employed me. Jarrett is also much more open to the opinions and suggestions of its employees. It's very refreshing to know your opinion is valued.
How is Jarrett "different" compared to other competitive, similar services?
I can't think of another company that offers all the services Pack Ship USA/Jarrett Warehousing does. We pack and ship anything, big or small. And the quality of care we put in to packaging can't be found elsewhere!
Ask a co-worker: What difference does JD make at Jarrett?
Brandon Schlabach – JD makes a difference at Jarrett by making the Leola branch function smoothly day to day. He provides great customer support for not only our largest customer, but all of our customers at the Leola branch. JD is a key factor in PackShip Leola's overall success.
Name a time you felt valued or appreciated by someone at Jarrett or by a customer?
We delivered a sewing cabinet to a home in Massachusetts. It took some problem solving to get it inside the split-level home but once we had everything set up, the customer was so grateful and showed us her quilting projects. It was uplifting to make a customer so happy.
We are grateful to have J.D. here at Jarrett. If you are interested in being a part of our team, visit our careers page.
For more Employee Spotlights, check out our blog!