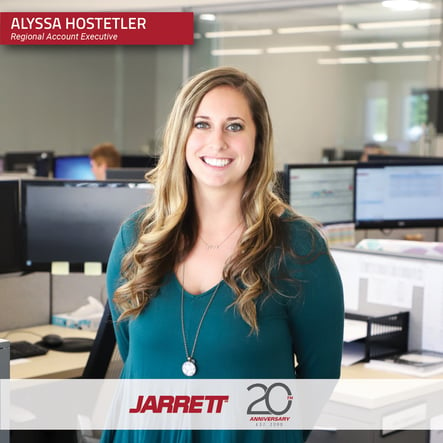 We are celebrating our 20th anniversary by highlighting our 20 most tenured employees!
Next up is Alyssa Hostetler, Regional Account Executive, here at Jarrett. Read her answers below to find out more about Alyssa and her experience at Jarrett throughout the years!
Describe your job in 20 words or less?
Provide a high level of service to our internal and external customers, and help oversee everyday tasks within our team.
Favorite memory at Jarrett so far?
I would have to say that my favorite memory so far at Jarrett is my first account implementation meeting. It was a great experience, and I was lucky to be a part of a new start up account within our company.
What is your favorite quote?
My favorite quote is "Do what you can with all you have, wherever you are." – Theodore Roosevelt.
What is your biggest goal right now?
I want to make a positive difference here at Jarrett, and help meet and exceed our future goals.
Why did you decide to join and stay with Jarrett?
The people at Jarrett, and our unique culture makes coming to work everyday easy and exciting.
Which employee perk does Jarrett offer that you enjoy the most? Why?
One of the perks is being able to stay at the Jarrett condo in Sarasota, FL, which is extremely kind and generous of the Jarrett family
Who has been a mentor for you here at Jarrett? How have they helped you?
My main mentors I have had throughout my career so far include: Jill Hochstetler, Mark Gordon, and Christina Sweigert. They have all assisted me in many training sessions, encouraged me throughout the way, and have helped create/mold the employee I am today. I admire their leadership styles, and their motivation and support inspire me to continue to grow here at Jarrett.
What advice would you give to recent new hires?
Don't be afraid to make a mistake as that is how you learn and grow.
What is the biggest lesson you've learned in your time at Jarrett?
One of the biggest lessons I have learned is to not to be afraid to voice new ideas. We are focused on continuous improvement, and you may just have a great idea that can help a new/existing customer.
How have you seen the organization and/or industry change over the course of time that you've been at Jarrett?
Since I began my journey with Jarrett I have seen many changes not only within our organization, but within the industry as well. From our organizational changes like new CAT teams, customers, departments, buildings, and locations to the industry with market transitions, technology improvements, startups and closures, and new regulations like the ELD mandate. It is constantly changing and is a very exciting time to be at Jarrett.
How does your team provide value to Jarrett clients?
My team provides a lot of value to all of our customers. Whether it is providing a high level of customer service, finding solutions to an issue, tracking and providing updates on shipments, or assisting in specialized reporting – our team is always focused on finding the best solutions and most effective and efficient processes for our customers.
How has technology evolved in your time at Jarrett?
When I first started, we had to manually rate some orders, and didn't have a lot of the features we have today.
How does Jarrett and their employees serve the community?
Jarrett is focused on civic responsibility and helping our community. For example, throughout the year we have the opportunity to volunteer at the Salvation Army to help pack meals for children who may not be as fortunate as others. It is a great way to give back to our community.
How would you define Jarrett's success?
We are focused on our core values, continuous improvement, operational efficiencies, and our unique culture, which is why I believe we are successful and a leader in our industry.
How has the client experience changed?
Not only are we always focused on continuous technological improvements, Jarrett is able to customize our TMS system to our customers' needs, which has changed our clients experience.
What do you envision Jarrett looking like in the next 20 years?
I foresee Jarrett continuing to grow - exceeding our goals, and starting new and exciting ventures.
What lessons have you learned in the past 20 years that will impact the next 20?
Don't be afraid to try and give it your all. You may come up with something pretty great.
What advice would you give your 20-year-old self?
If I could go back and give my 20-year-old self any advice, it would be the same I tell our new hires now. Don't be afraid to make mistakes. That is how you learn and grow. It is better to try and learn than to not try at all.
What job did you have when you were 20?
I have been apart of the Jarrett family since I was 19!
We are grateful to have Alyssa here at Jarrett. If you are interested in being a part of our team, visit our careers page.
For more Employee Spotlights, check out our blog!