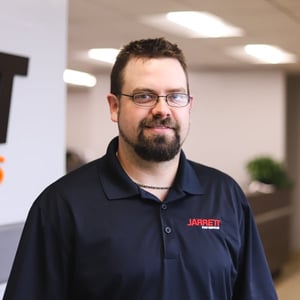 Ty Stahl is a Lead Technician at Jarrett Fleet Services. Ty assigns tasks, inspects completed trailers, quotes trailers, and assists with difficult job completions as needed.
Ty started with Jarrett Fleet Services in 2014 as a Trailer Technician and Driver. He quickly worked his way up to Lead Technician in 2018. Prior to working at Jarrett, Ty worked for Winkler Trenching and Excavating.
Ty enjoys Jarrett Fleet Services' focus on customer satisfaction. In addition, he adds that the work atmosphere is a strong point, as everyone gets along well and assists where needed. He also enjoys that there are always new opportunities for learning and growth.
Ty's goal is to help contribute to becoming the premier fleet maintenance shop in northeast Ohio. He would also like to become more involved with the business side of the company, learning invoicing and management.
In his free time, Ty enjoys spending time with his wife, Erica, and two children, Jackson and Cora. Together they like to go on walks through their woods, work on their farm, show sheep, and play with their two dogs.
We asked Ty, "What makes Jarrett different?" Here's what he said:
"In our shop, camaraderie is valued in addition to job performance. We strive to maintain a healthy work atmosphere, and to be the best in our business. I think these are strong traits that lead to a successful company."