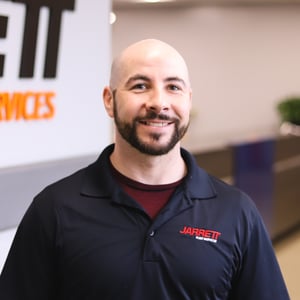 Rob Cunningham is the Lead Technician over truck repair and road service at JFS. His job is to oversee and manage all heavy truck repair and roadside repairs. Rob has worked at Jarrett since 2016, starting at our original facility in Rittman. Then in 2017, Rob began managing our Kent shop. Two years later, he came to our current facility in Seville to his current position. His career as a mechanic began in 2003 at a Ford dealership.
Rob has enjoyed being a lead supervisor for much of his career, as team building and leadership are a passion of his. He enjoys that his position has allowed him to teach our team members to improve themselves while also learning new skills himself. It's his goal to continue to learn and grow with Jarrett as we expand further into the trucking industry and continue to help our customers in all areas with the best service possible.
In his free time, Rob can be found camping and enjoying the outdoors with his family. He is a scoutmaster for his son's scout troop and also enjoys exercising and staying fit.
We asked Rob, "What makes Jarrett different?" Here's what he said:
"The characteristics that set the Jarrett team apart from other companies are its high value of our employees, and treating everyone with respect while passing these values on to our customers. Doing this from the inside out allows us to build and grow to be the best in the industry."