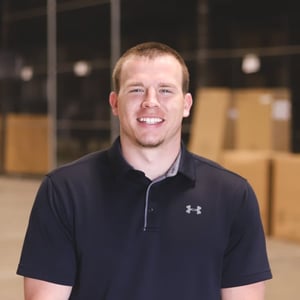 Jesse Mann is the Warehouse Operations Supervisor in Orrville, OH for Jarrett Warehousing. Jesse joined Jarrett as an Operations intern in 2018 and came on as a full-time Logistics Coordinator. at the end of his internship. Jesse was promoted to a Lead Warehouse Coordinator prior to moving into his current role.
One of the things Jesse enjoys about his job is getting to see the progression of a piece of furniture coming in completely bare and us turning it into a professionally packed and protected package ready to ship all the way across the country. He also enjoys the problem solving aspect of his career, since some of the pieces are unique. There are always opportunities to improve protection processes.
Jesse's goal at work is to make this warehouse the most efficient it can be. His personal goal is to be a good husband and father and provide for his family.
During his free-time, Jesse enjoys spending time with his girlfriend and family, hunting, fishing, working out, and playing slow-pitch softball.
We asked Jesse, "What makes Jarrett different?" Here's what he said:
"Jarrett offers a wide range of services that many other warehouses cannot. The customer service we provide is also something that sets us apart. Any of my customers can call and get a hold of me at any time and I can assist them personally."