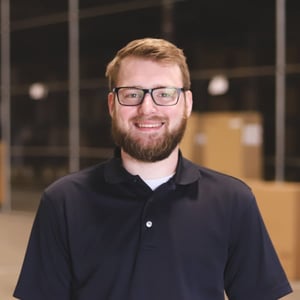 Jake Young is a Lead Warehouse Coordinator for Jarrett Warehousing in Orrville, OH. Jake joined Jarrett in October 2017 as an Assistant Warehouse Coordinator and was promoted to a Warehouse Coordinator before moving into his current role. Prior to his roles with Jarrett, Jake was a 3rd shift Team Leader of the Part Distribution Center at JLG. There, he was in charge of managing a crew of 30+ people to complete, daily shipping orders, receiving orders, inventory control, and quality inspections.
Jake enjoys the camaraderie, and family-oriented work environment at Jarrett. He enjoys how each day is different and presents new challenges for himself and his crew to work through together. Jake's goal is to continue to become a better leader.
In his free time, Jake enjoys watching, playing, and reading up on statistics of sports and traveling with friends and family for quick getaways as often as possible.
We asked Jake, "What makes Jarrett different?" Here's what he said:
"Our relationship with our customers is second to none. We genuinely care about the people that are customers and they care back as well. I would also say our warehousing space is pristine when it comes to cleanliness and lighting capabilities."