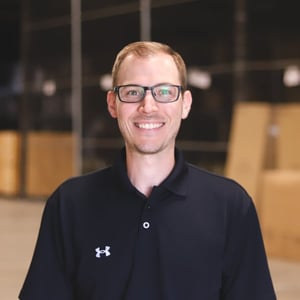 Aaron Nussbaum joined Jarrett Warehousing (Jarrett) in early 2019. As Director of Logistics Operations, he oversees Jarrett's warehousing operations, ensuring Jarrett is effectively helping clients with any warehouse storage, order fulfillment, packaging or shipping need.
Prior to joining Jarrett, Aaron spent eight years with The J.M. Smucker Company, working in corporate transportation, operations and corporate warehousing. During his time there, he worked with many Fortune 500 companies, such as Amazon, Walmart and Target, which gave him exposure to their supply chains and delivery requirements. Aaron received his Bachelor of Arts in Management from the University of Mount Union and a Master of Business Administration (MBA) focused on Business Analytics and Supply Chain Management from Ashland University.
Outside of work, Aaron enjoys spending time with family and friends. He also enjoys practicing CrossFit with his wife, playing with his golden retriever, Riggins, golfing, playing basketball and watching sports.
We asked Aaron, "What makes Jarrett different?" Here's what he said:
"Jarrett cares. We care about our customers by hiring the best people to give them the best service. Beyond that, we care about our people. Our employees form strong relationships with one another because of the positive work environment and are supported in a variety of ways beyond the work that they do."