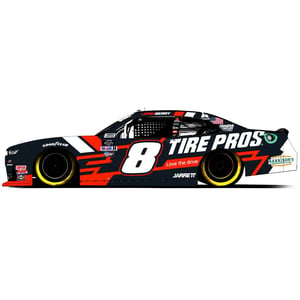 Many things have changed in our world as a result of the coronavirus pandemic. Restaurants are open for take-out only, and we desperately need our haircut. Parents are high school teachers, and the only human interaction we receive, aside from family, is through our webcams.
Full-time and part-time work across the nation has changed, too.
Work from home jobs are the new norm. Typical 30 minute driving commutes have become a 30 second walk to the kitchen table or at-home office. Written communication skills and internet connections are being tested. You miss your colleagues and your co-worker is now your golden retriever, Henry.
Work-life balance has taken on a whole new meaning than what it did before the pandemic. While it used to be a balance of not taking work home, now it's harder to keep home out of work.
Different Locations. Same Quality Service.
The key to a successful work from home transition is making sure employees can be an effective remote worker. At Jarrett, we have greater appreciation for our IT team who helped everyone get set up at home in record time. They continue to be great virtual assistants. Creative technology uses have allowed us to continue to serve our clients with exceptional customer care.
Our typical JLS Routing Center center set-up has shifted. However, clients can still expect their email response time to be less than 15 minutes and shipments to be scheduled as quickly as before.
In fact, we are seeing an increased speed in which our employees are responding to emails and getting shipments out. We are diligently working to be able to continue to help keep supply chains moving.
We are proud to be considered an essential service during this uncertain time. We are playing a vital role to help keep businesses going and crucial supplies available. We have been glad to assist in the delivery of medical supplies, masks and other necessary goods.
Caring for Employees
In a webinar we hosted on April 9, Mike Jarrett talked about how business leaders should approach caring for their employees. He said, "You have to continue to be empathetic, and keep emotions under control. Most importantly you have to keep employees first by caring for them, because they are your most valuable asset."
Through all of this, our employees health and safety has been our number one priority. It has been important to us to keep an open line of communication about general information and work expectations.
Looking into the future, he also stressed this: "Don't move employees back to the office too quickly. There are still going to be emotions and concerns. I think it's important to move everyone back in a slow and consistent manner."
We expect there to be a long road ahead. We want businesses to be up and running and for things to go back to normal. However, we know there will be a lasting effect on the economy, and people's concern for their safety.
Listen to the full length webinar, as Mike gives advice to business leaders on how to cope with COVID-19.
Maintaining Our Collaborative Culture
Another challenge of changing to remote jobs is keeping the culture alive. How do you communicate the same attitude and atmosphere when you aren't surrounded by your team? Written communication and video calls have become important for remote work duties, but for "water cooler" talk too.
Email chains don't only have to be about business priorities. Sharing what's happening at home has helped us to mesh our two worlds together. There are many social media and virtual video platforms to help us stay connected.
Some employees shared a special neighborhood initiative. They put a teddy bear in the window for families to "find" on their evening walks. This idea promoted others to participate and keep our core value of Civic Responsibility alive.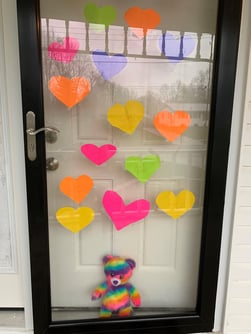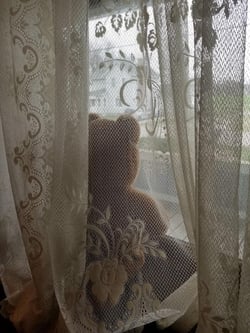 Experience our collaborative corporate culture virtually by joining the conversation on LinkedIn.
There are other small things we've added to make sure our culture is still present during working hours. Many teams have daily virtual check ins, not only for accountability, but to continue to foster relationships with one another. Getting to hear voices and see faces is a good reminder of why we are so passionate about working in teams.
Jarrett Leadership has taken great measures to ensure we are kept up to date on all relevant information. Rob Churgovich, Director of Human Resources, sends out daily updates on any COVID-19 related news. Oftentimes, in these updates is an occasional shoutout he has received from an employee about another team member. Here's an example from a few weeks ago about Jacob Ackerman, Manager of Analytics and Carrier Management:
I would like to give a shout out to Jacob Ackerman for multiple reasons! He was there for every need, question or concern the Claims department has had. Jacob has made the transition absolutely seamless for us to work at home!
These shoutouts keep our core value of Excellence at the top of our minds. They also help to thank our employees for the extra work they may be doing as a result of COVID-19.
The Difference is Our People
At Jarrett, we believe the difference is our people. Our people are at the center of our business plan, and are the key to sustaining a great culture. Working without physically being surrounded by our people has been tough. However, we are thankful for technology that allows us to continue building relationships with one another.
We continued to maintain business relationships with our clients and develop strategic initiatives to navigate the uncertainty of the transportation landscape. We have been able to do this because of the existing relationships we have with our clients. Having people who are dedicated to help keep supply chains moving is extremely important. We have also increased our communication to clients. We aim to help them understand how transportation networks are being affected by COVID-19 with frequent blog and email updates.
Adapting to remote work has been a new challenge for businesses everywhere. However, we've learned that communication remains the most important tool, especially during a global pandemic. We've been able to transition home and still do our work as efficiently as before. We believe we are in this together as we continue to navigate the challenges of COVID-19.
For up-to-date information on the transportation segment surrounding COVID-19, check out our blog!
About Jarrett
Jarrett serves as a leading provider of transportation and logistics solutions. Jarrett drives visibility, control and continuous improvement throughout the entire supply chain for their clients. High-touch, personalized service is integral to their business. Jarrett's hands-on, customized services enhance efficiency, lower transportation costs, and mitigate supply chain risks.
Jarrett is headquartered in Orrville, OH with additional locations in Cleveland, OH, Milwaukee, WI and Los Angeles, CA. For more information about Jarrett, visit our website, email marketing@gojarrett.com, or call 877.392.9811.