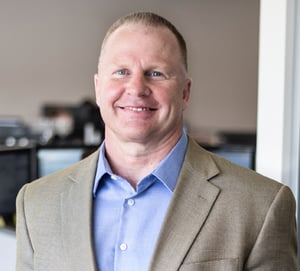 With an extensive background in transportation management, Mike Jarrett founded Jarrett in 1999. Mike views business ethics, employee character and operational efficiency as keys to success for Jarrett. Under his leadership, Jarrett has been recognized for numerous awards, including those from Inc. Magazine (Inc. 5000), Entrepreneur Magazine, Weatherhead School of Management at Case Western Reserve University (Weatherhead 100), Smart Business Magazine (Cascade Capital Growth Award) and The Plain Dealer (Best Places to Work in Northeast Ohio). Mike plans to keep growing Jarrett through heavy investment in two key areas: integrity-based, skilled people and leading-edge supply chain technology.
Prior to Jarrett, Mike was Vice President of Carrier Operations for Hudson, Ohio–based Caliber Logistics (now known as FedEx Supply Chain Services), which he joined in 1991. During his eight-year tenure at Caliber Logistics, he was instrumental in initiating the company's first centralized transportation management operation. He also managed multiple routing center operations, directed the implementation of new accounts and was responsible for negotiating carrier contracts. Prior to Caliber Logistics, he spent two years as a Supervisor at Roadway Express. He graduated from the University of Mount Union with a Bachelor of Business Administration and received a Master of Business Administration (MBA) from the University of Akron.
Mike is also the founder of the parent company Jarrett , which includes PackShip USA, Inc., a packaging, transportation and warehousing company that focuses on final mile supply chain solutions, Jarrett Warehousing, focusing on order fulfillment and inventory management and Jarrett Fleet Services, a full-service fleet maintenance company. Outside of the logistics industry, Jarrett includes Zephyrs Fitness, Crossfit Orrville, Baja West Coast Kitchen, and Old Carolina Barbecue.
Mike and his wife Diane reside in Orrville, Ohio, and have two daughters, Alexa and Madeline. He currently serves on the Heartland Education Community Board of Trustees, the Farmers National Bank Advisory Board, the Wayne County Community Foundation (WCCF) Board and the University of Mount Union Board of Trustees.