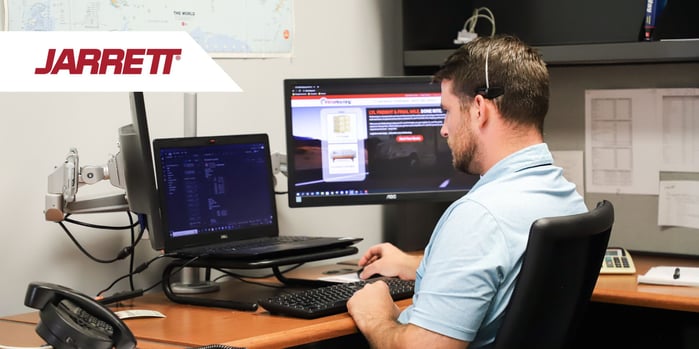 A Transportation Management System (TMS) makes shipping more efficient, which can boost your company's bottom line.
What is TMS software?
Freight TMS software is an integrated transport management system that helps companies plan and execute their freight shipping, make it easier and more efficient, and provide task automation. A logistics TMS can be used by anyone in the supply chain, from shippers (manufacturers or suppliers) to distributors, to third-party logistics providers (3PLs). It is a vital tool for anyone that ships freight.

But a Transportation Management System doesn't just make shipping easier – it can also boost your bottom line – adding between 1% to 3% right to the bottom line through rate comparisons and savings, routing efficiencies, and labor-saving activities.

A TMS implementation helps improve logistics capabilities in the following ways:
Visibility
With origin-to-destination visibility, the ability to choose suppliers and carriers, as well as real-time inventory availability, users have control over shipment progress, even as conditions change due to stock-outs, supply chain disruptions, or weather delays.
Optimization
A TMS allows opportunities to optimize processes, such as using full truckload shipping instead of multiple LTL shipments and improving on-time performance with route scheduling and optimization.
Supply Chain Resiliency
Transportation Management System software can help companies stay resilient in the event of supply chain disruptions and cost increases by providing visibility to inventory levels, helping with resource planning and production, and service level agreements (SLAs) and compliance by providing analytics and reporting.
Customer Service
Finally, a TMS can help keep customers happy. By providing accurate order shipping, faster fulfillment times, on-time deliveries, maintaining agreed-upon service levels, and helping keep your promises can strengthen customer loyalty, brand reputation, sales, and revenue.
Jarrett's user-friendly, cloud-based Transportation Management System, jShip, helps you improve your business's overall speed and operational efficiency. It provides:
Simplified, web-based rate quotes and transit times from multiple carriers
Efficient order entry that is fast, consistent, and can be completed whenever you want
Improved shipment visibility that allows you to be proactive instead of reactive
Safe, secure, and efficient
Learn more about how using a TMS can translate into major savings in this case study and contact us to learn how we can help you support your bottom line by using jShip by calling 877-815-0279 or visiting https://www.gojarrett.com/logistics/solutions/transportation-management-system.