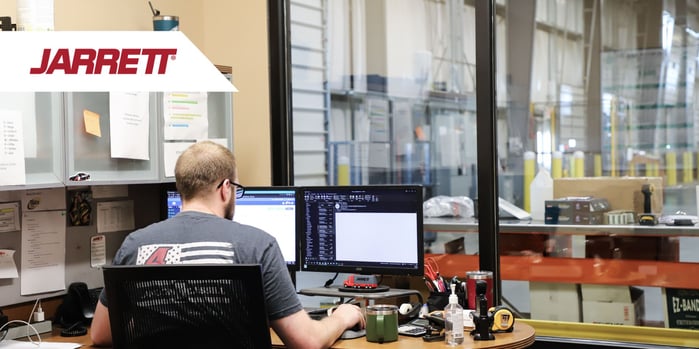 Being nimble and cost-conscious are more important than ever with the economy and the multitude of industries that support it changing every day. But as freight costs continue to increase, there is a way you can both cut costs and turn your inbound freight into a profit center.
First,

what is inbound freight?
Inbound freight logistics is the transport and delivery of goods that come into your business. While most companies aggressively manage their outbound shipping costs, many don't realize that managing their inbound shipping as diligently can result in significant cost savings. As pressure to cut costs increases, it's time to look at your inbound logistics management.

According to an article in Inbound Logistics, the top logistics/transportation challenge is cost reduction, with 94% of respondents naming cost reduction as a critical issue, and according to the Aberdeen Group, inbound freight accounts for between 40-80% of total freight spend, and total freight spend accounts for between 3.6% and 5.2% of companies' total sales. Cutting even a half percentage point off shipping expenses can be significant!

Inbound shipping is typically paid by the shipper (your supplier) and it is frequently built into product cost, hiding the actual shipping costs your supplier is paying to ship you your goods. By doing this, your suppliers are using their negotiated carrier rate discounts and your shipping volume to add to their revenue. If they tell you shipping is free, well, nothing in life is free, right? You're paying for it, you just don't know how much.

For example, your supplier might have built $2000 into your product cost for shipping, but in reality, their carrier(s) are only charging them $1400 to move your goods. That's an additional $600 in savings you can realize by managing your inbound freight.

Because inbound shipping costs are usually ignored, the savings you can realize by managing your inbound freight are both higher in percentage, and in dollar amount, than you can receive by closely watching your outbound shipping costs, as the above example illustrates.

Here are three ways you can begin turning your inbound freight into a profit center:
Reducing your overall freight costs,
Optimizing your logistics with a transportation management system, and
Leveraging improved data and insights.
Reduce Inbound Freight Costs
Reducing your inbound shipping costs is one of the most overlooked, yet easiest ways to decrease your overall shipping costs. If you have an in-house logistics team or manager, have them work with your vendors to change your shipping payment terms from "prepaid and add" to "inbound collect." That way you see the actual freight fees paid – because you're now paying them. If you are a smaller organization, you may want to have a freight broker manage your inbound shipping. Even though a broker will charge you fees, you'll still come out ahead.
Optimize Your Logistics with a Transportation Management System
The power of a Transportation Management System (TMS) helps streamline and simplify processes while offering the ability to gain more control over your supply chain, and specifically, your inbound freight shipping.

A TMS will provide visibility into your inbound freight, providing tracking information, and if needed, alerts when delays occur. It also allows you to optimize your inbound shipments by routing your freight based on transit time or combine multiple LTL shipments into one truckload. Finally, a TMS can help you create automated processes, routing guides, and reports to help keep everyone in the loop regarding your inbound freight.
Improved Data and Insights
Having visibility into your supply chain means having access to data and insights. However, it requires more than simply having access to that information. It also requires having the ability to develop actionable strategies and make decisions, and when data and insights are used properly, they can lead to further cost reductions, more on-time pick-ups and deliveries, as well as the ability to measure success and improve your overall supply chain process.

In another recent article in Inbound Logistics, they stated "Treating logistics as a profit center can expand both revenue and profit and build your base. But this approach is still a brave new world."

But, it can be done and it is impactful. Once implemented, you can turn your inbound freight costs into an inbound freight profit center.

We help our customers leverage strategies to turn their inbound logistics into a profit center through vendor relations and negotiations, using a TMS, and working with improved data and insights. These strategies can help you reduce costs, increase efficiencies and visibility, and maximize your workforce. Contact us to receive a full review of your inbound and outbound freight data by calling 877-815-0279 or by visiting https://www.gojarrett.com/logistics/.

For more resources, learn more about Jarrett's jShip, an award-winning proprietary TMS, and read a recent case study to see how we leveraged technology, insights and vendor relationships to help a client save more than $300,000 in inbound freight costs and recover $41,000 in freight claims.