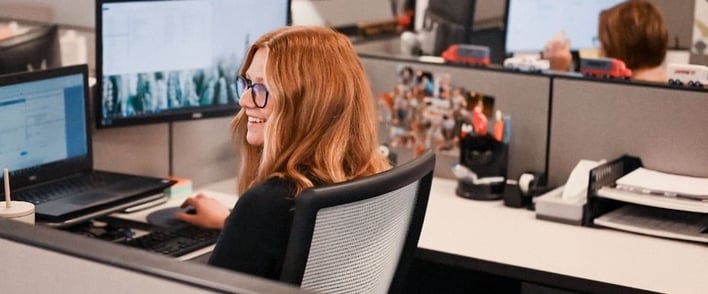 Many companies find that their 3PL provider turned on autopilot – offering transactional services without a personalized approach. In this new normal of increased disruption, supply chain issues and other industry challenges, it is more important than ever to partner with a 3PL that has a passion for the industry, as well as a personalized approach to working together coupled with the right technology.
A North American leader in the consumer packaged goods (CPG) industry was struggling with late and lost shipments, mostly spurred on by the pandemic and the related economic and industry challenges. They realized they were on autopilot with their current 3PL and did not even have an account representative identified. In an industry where moments matter, having a team of trustworthy supply chain experts on your side is the difference between success and failure.
A People-Centric Approach
The CPG company began a search for a new 3PL provider as a result of not receiving the service and support they required. After meeting with several providers, they landed on Jarrett. For them, it was much more than just a transaction; they wanted to work with a company that aligned to their values and dedication to quality and accuracy.
"The customer service that you get here, and the attention makes me feel like I'm Jarrett's number one customer, and I'm sure they make all customers feel that way," said the Director of Customer Service at the CPG company.
Jarrett began by shifting the CPG company over to its Jarrett Routing Center, where its professionals could offer hands-on, personalized service and leverage their key data and insights to develop proactive solutions.
Coupling Technology with People
Many 3PLs simply provide technology for their customers and move on to the next transaction. Jarrett brings together expert insights from its team of professionals with industry-leading technology to create a comprehensive solution for its customer's supply chain needs.
As an example, Jarrett's jShip Pro, and interactive business intelligence dashboard JLS Advanced Analytics, helped manage the CPG company's less-than-truckload, while providing additional full truckload and expedite support, among other functions. However, it was only one piece of the puzzle to providing exceptional service.
The people at Jarrett provided the personalized and proactive communication necessary to bridge actionable insights and recommendations based on data with proactive and personalized communication. They answered the call in 3 rings or less, 24/7/365, and replied to emails in 10 minutes or less.
The Results
The CPG company has nearly doubled in size since it began working with Jarrett in January 2021. They have routed over 5,500 LTL shipments and answered almost 8,500 emails in 6.58 minutes, while finding $135,000 in proactive savings.
With Jarrett, it is more than a transaction. It is about the convergence of people, technology and providing proactive communication to gain visibility into your supply chain. Download the case study to learn more about our work with this CPG company.