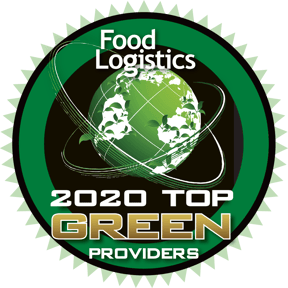 ORRVILLE, OH —June 17, 2020 — Food Logistics has named Jarrett to the Top Green Providers list for 2020.
Food Logistics' annual Top Green Providers recognizes companies whose products, services, or exemplary leadership is enhancing sustainability within the food and beverage industry.
Jarrett's green initiatives include a paperless initiative, in which over 637,000 invoices, 93% of total invoices, have been sent electronically over the last three years, as opposed to printed out on paper. Water fountains were replaced in all buildings with reusable water bottle fillers to minimize plastic water bottle use.
Jarrett's maintenance and service center, Jarrett Fleet Services, scraps aluminum and steel. The 70 ft long sandblasting bay sustainably reclaims and reuses its sandblasting media. 80% of the metal shot, used to blast paint and rust of steel equipment, can be reused thousands of times.
Jarrett's warehousing space in Orrville, OH is operated by motion sensored lights. This saves energy by only lighting up when prompted by movement in the section of the warehouse that is being utilized.
"Investing in green technology and sustainable initiatives are a priority for us at Jarrett. We see doing our part to contribute to a more energy efficient world as a business best practice," Mike Jarrett, President and CEO of Jarrett said. "Our goal is to reduce waste, whether that be material or energy, throughout supply chains, warehousing, and fleet services."
"From technology that reduces a fleet's carbon footprint to software that helps shippers drive energy efficiency, these top green providers continue to practice the ultimate in sustainability year over year," says Marina Mayer, Editor-in-Chief of Food Logistics.
About Jarrett
As a leading provider of transportation and logistics solutions, Jarrett drives visibility, control and continuous improvement throughout the entire supply chain for their clients. High-touch, personalized service is integral to their business. Jarrett's hands-on, customized services enhance operational efficiency, lower transportation-related costs, and mitigate supply chain risks.
Jarrett is headquartered in Orrville, OH with additional locations in Cleveland, OH, Milwaukee, WI, Dallas, TX, and Los Angeles, CA. Warehousing locations include Orrville, OH, Goshen, IN and Leola, PA.The fleet services center is located in Seville, OH and Kent, OH. For more information about Jarrett, visit www.gojarrett.com, email info@gojarrett.com, or call 877.392.9811.