CLEVELAND, OH – Jarrett received the SHARE award at the Pillar Awards ceremony on December 5 at the LaCentre Conference & Banquet Center in Cleveland. This award is a special honor given to one applicant whose community service best reflects Medical Mutual's own employee SHA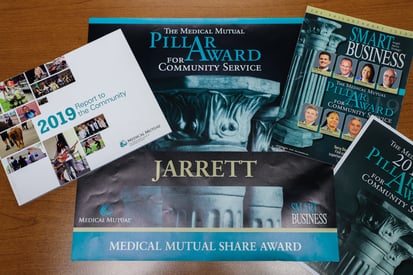 RE program. SHARE stands for serve, help, aid, reach, and educate.
Medical Mutual and co-founding partner Smart Business put on the 22nd Pillar Awards honoring companies and individuals that serve in a variety of different ways: volunteering, financial contributions and other support.
Mike and Diane Jarrett, co-founders of Jarrett companies, attended the awards ceremony where they received the award and gave a thank-you speech. They were surrounded by others who were awarded for their contributions to their communities. "We thoroughly enjoyed our time at the Pillar Awards" said Mike Jarrett. "It was an honor to be recognized alongside so many other members of the community for their own philanthropic efforts."
Jarrett values civic responsibility as a core value throughout the organization. In close partnership with The Salvation Army of Northeast Ohio, each year Jarrett hosts a canned food drive, encouraging employees to bring in canned goods. Last year, the company raised over 5,000 cans. Once a month, employees also have the opportunity to spend their lunch breaks to go pack lunches for students at local schools affected by food insecurity.
About Jarrett
As a leading provider of transportation and logistics solutions, Jarrett aims to create continuous improvements throughout your entire supply chain. High-touch, personalized service is integral to their business. Jarrett's hands-on, customized services enhance operational efficiency, lower transportation-related costs, and reduce supply chain risks.
Jarrett is headquartered in Orrville, OH with additional locations in Dallas, TX and Los Angeles, CA. For more information about Jarrett, visit www.gojarrett.com, email marketing@gojarrett.com, or call 877.392.9811.
To keep up with current news about Jarrett, subscribe to our blog!