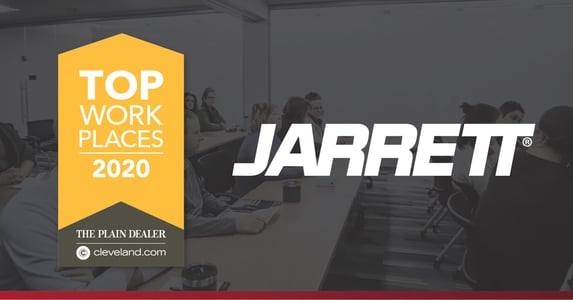 Orrville, OH June 29, 2020 – Jarrett has been awarded a Top Workplaces 2020 honor by The Plain Dealer. The list is based solely on employee feedback gathered through a third-party survey administered by employee engagement technology partner Energage, LLC. The anonymous survey uniquely measures 15 drivers of engaged cultures that are critical to the success of any organization: including alignment, execution, and connection, just to name a few.
As a people-centric, technology-enabled company, Jarrett has many initiatives that center on the most valuable part of the company - their people. By striving to hire people of integrity and good character, Jarrett creates a work environment enjoyed by employees each day. The employees at Jarrett believe that the culture and people are a rare, yet valued benefit to their work experience. This is something the company often refers to as "The Jarrett Difference."
Jarrett provides many wellness opportunities, encouraging employees to take care of their physical, emotional, social, and spiritual health. Some of these initiatives include financial support for counseling sessions and a "wellness account" in which employees can earn money by participating in wellness events.
"We are excited to receive The Plain Dealer Top Workplaces award for 2020. We recognize that creating a top workplace is about creating a culture where employees are empowered, feel aligned with the company's vision and are challenged in a high-performance environment," Mike Jarrett, President and CEO, said. "We will continue to focus on employee engagement by maintaining an environment of teamwork because we know that we can accomplish much more together than we can individually. This award exemplifies our slogan, 'The Difference is Our People,' as we recognize that our people are what give us a competitive advantage in the logistics, transportation, warehousing and fleet services marketsthat we serve."
"In times of great change, it is more important than ever to maintain a connection among employees," said Eric Rubino, Energage CEO. "When you give your employees a voice, you come together to navigate challenges and shape your path forward based on real-time insights into what works best for your organization."
###
About Jarrett
As a leading provider of transportation and logistics solutions, Jarrett drives visibility, control, and continuous improvement throughout the entire supply chain for theirclients. High-touch, personalized service is integral to their business. Jarrett's hands-on, customized services enhance operational efficiency, lower transportation-related costs, and mitigate supply chain risks.
Jarrett is headquartered in Orrville, OH with additional locations in Cleveland, OH; Milwaukee, WI; Dallas, TX and Los Angeles, CA. Warehousing locations include Orrville, OH, Goshen, IN and Leola, PA.The fleet services centers are located in Seville, OH and Kent, OH. For more information about Jarrett, visit www.gojarrett.com, email info@gojarrett.com, or call 877.392.9811.
About Energage
Energage offers a fully unified SaaS platform, plus support and professional services, to help organizations recruit and retain the right talent. As a B-Corporation founding member, Energage has committed itself to the purpose of making the world a better place to work together. Based on 14 years of culture research, the engine behind 51 Top Workplaces programs across the country, and data gathered from over 20 million employees at 60,000 organizations, Energage has isolated the 15 drivers of engaged cultures that are critical to the success of any business, and developed the tools and expertise to help organizations measure, shapeand showcase their unique culture to achieve a sustainable competitive advantage. For more information, please visit energage.com. Follow us on Twitter @teamenergage and Facebook and LinkedIn @energage.