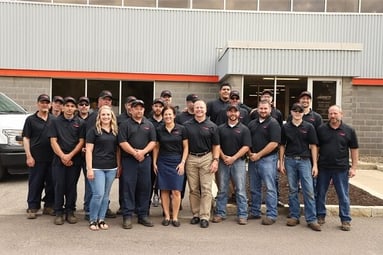 SEVILLE, Ohio. – Jarrett Fleet Services (JFS) hosted an open house at their new location in Seville on July 25 welcoming numerous members of the community and the transportation industry.
The open house began with a ribbon cutting ceremony at 3 p.m., where W. Michael Jarrett, President and CEO, and other community leaders kicked off the event. The remainder of the evening included facility tours featuring state-of-the-art equipment, dinner from Old Carolina Barbecue and raffles. The facility is located at 8860 Wooster Pike, close to the 71/76 intersection and is the former home to Schneider National.
Jarrett invested $2.7 million to clean up the property, make renovations and expand the buildings. The newly renovated JFS facility will bring more than 30 jobs to the community as the business continues to grow.
The facility offers one-of-a-kind technologies for custom fleet repair services and maintenance. A 70-foot-long sandblasting and painting booth sustainably reclaims and reuses 90 percent of its sandblasting media which can be recycled two to three hundred times.
A similar style painting booth with climate control, a crossflow air pump and 90 percent more light helps produce more precise paint jobs. The facility also features lift technology for roof repair work that moves trailers out in a fraction of the time.
To keep up with current news about Jarrett, subscribe to our blog!