Jarrett is excited to present our redesigned worldwide website www.GoJarrett.com.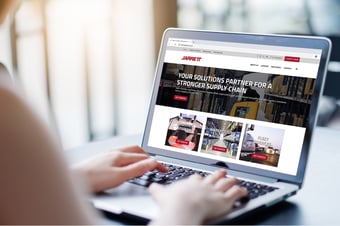 With a dynamic look and streamlined experience, the new website empowers clients to take control of their supply chain. The sleek design is laid out for easy navigation of our three verticals.
Our mission is to create a conduit for future clients to enhance operational efficiencies and execute seamless, end-to-end supply chain solutions. The website features a fresh brand update with a new Jarrett logo and subtle accent colors to highlight each division.
"Our digital revamp will allow our company to progress forward to the next stage of Jarrett. It incorporates all of the services under the broader image of Jarrett. This includes Logistics Systems, Warehousing and Fleet Services all accessible on the same site. It will empower us to effectively communicate our services and support to all current and future clients, in an all-encompassing manner. The new site creates a compelling user experience -increased speed, easier navigation with helpful resources." – Matt Wagner, Vice President, Sales and Marketing
The new design and content will define the Jarrett brand creating a "top of mind" presence to further strengthen client engagement.
The largest addition to www.GoJarrett.com is the Resources Hub, that provides quarterly industry insights, informative blogs, and case studies. The wealth of resources supplies users with the insights to make confident transportation decisions.
The website features our JLS Routing Center full of dedicated logistics professionals eager to serve clients at the highest level. We focus on the implementation of total supply chain visibility and an 8.5 second average call response time.
Our website is the portal we provide, giving complete access to jShip, our robust Transportation Management System (TMS), including our intuitive JLS Advanced Analytics. The website integrates with our TMS to provide easy access to detailed supply chain insights tailored to your business.
The website provides an overall understanding of Jarrett's services, people, and culture. The 'About Us' page showcases our vision to inspire innovation and encourage our people to do great things for our clients every day. Our eight core values influence everything we do at Jarrett. They are a part of our fabric, are immovable and are representative of our unique culture.
"People of character have values that reflect what is truly important – they work hard, are honest and have integrity. When you combine those traits with superior technology, our clients receive the very best 3PL services in the industry. When people care about their clients and have cutting edge technology as a tool to meet and exceed the clients' expectations, it creates a competitive advantage." – W. Michael Jarrett, President and CEO
Our new website will be regularly updated with new content including industry updates, company news, and case studies. Experience the Jarrett difference on our new site and sign up for our transportation updates by visiting www.GoJarrett.com.