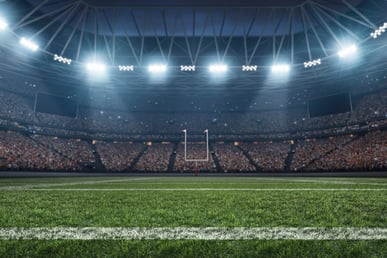 The Kansas City Chiefs just won Super Bowl LIV which means the football season is over. But once fall rolls around, casual viewers and avid fans around the country will surround the TV to watch the next season of games.
Every football fan is aware that the decision making ability and performance of a quarterback (QB) can make or break a team. There are two types of QBs found in the NFL: an inexperienced QB who is given a simple game plan to go execute and then will be able to learn from his mistakes on Monday when reviewing the game film with hopes of making adjustments before the next game; or an experienced QB who enters with a game plan, but is able to proactively make adjustments to that plan during the game, giving his team the best opportunity to win.
What do these two types of QBs have to do with transportation and logistics? How does reactive decision-making impact your business today? The qualities of a transportation expert can support your team by optimizing your supply chain and mitigating unexpected risks.
MITIGATING UNEXPECTED RISKS
In the heat of the game, an experienced QB will often call an "audible" if the defensive formation makes him uneasy. An audible is a real-time, change in the play at the line of scrimmage before the ball is snapped. To do this, the QB yells a secret code, like "Omaha," or "Blue 22," which prompts the offense to switch to a different play that would be more optimal for success against the defense.
Like football, the supply chain industry is a complex game of moves and counter moves. Making educated decisions in the midst of uncertainty minimizes the likelihood for lost time and unnecessary cost. An experienced transportation partner will offer hands-on expertise for day-to-day situations along with robust, actionable data to enhance strategic decision-making. These insights help assess efficient carrier utilization, cost analysis, and overall supply chain performance.
"Technology and data are critical, but human involvement is also key when things don't go as originally planned. Technology and human expertise have to work together." — Matt Angell, Vice President, Logistics Operations at Jarrett.
In business today, a positive client experience is vital to continued success. Partnering with a transportation expert that is able to balance cutting edge technology with a dedicated support team provides a competitive advantage. Not only does it offer lower transportation related costs and administrative time savings, but it also allows for a proactive strategy when managing unexpected events that occur in transit.
HAVING A GAME PLAN
Any successful team has demonstrated the ability to prepare a solid game plan. In order to do so, they evaluate the strengths and weaknesses of their team compared to their opponent. The goal is to put their players in position to be successful while minimizing the risk of giving up big plays to their competition.
What separates a good team from a great team is the ability to make adjustments proactively during the course of the game. There are times when the original strategy needs to be altered in order to achieve success over the opponent.
In business, transportation is one of the lasting impressions as it relates to customer experience. By having a hands-on partner helping a company execute their "game plan" they can gain a distinct advantage over their competition. Technology is used to monitor shipments from the shipping dock to the receiving dock, however, a dedicated support team provides next level shipment visibility.
"It's critical that a freight management company provide problem-solving for clients before they even realize there's a problem. Our operations team provides that level of visibility, and it can be a transformational change to our clients." — Matt Angell
Much like how a football team must put together a solid game plan in advance of game day, having a strategic logistics partner is essential to maximizing supply chain efficiencies. A strategic approach from a trusted transportation partner assists in executing long-term strategies to decrease year-over-year costs, leverage operational excellence, and enhance total supply chain visibility. These crucial elements to a logistics game plan will go a long way towards helping a company reach all of its supply chain goals.
THE TAKEAWAY
The transportation world can be complex and difficult to navigate. Select a partner that uses foresight rather than hindsight, and help your team win more than just on gameday.