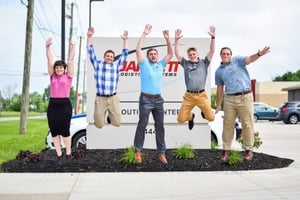 What is a company's culture? It is one of the defining characteristics of an organization's success. An uplifting business environment empowers members to reach higher and go further. When your company culture is positive, it encourages employees and cultivates a good working atmosphere. On the flip side, a poor organizational culture can be damaging and discouraging to one of the core elements of a business, it's people. At Jarrett Companies, we are committed to having a positive company culture, and we see it as one of our largest priorities.
Jarrett Companies is proud to be a third-year recipient of the Cleveland Plain Dealer's Top Workplaces 2018 Award. Winning the award for the first time in 2016 was an exciting feat but having the opportunity to be placed on the list for the third consecutive year was an outstanding accomplishment.
Jarrett Companies, located in Orrville, Ohio is comprised of five companies: Jarrett Logistics Systems, PackShip USA, Jarrett Fleet Services, Zephyrs Fitness and CrossFit Orrville, and Fortis Group (Old Carolina Barbecue & Baja West Coast Kitchen). The companies, although seemingly random, have one large component in common: our eight core values. Jarrett Companies holds to Character, Entrepreneurial Spirit, Respect, Compassion, Courage, Fairness, Excellence and Civic Responsibility. Any company can have a set of core values, but it's altogether different to see them displayed daily.
The Cleveland Plain Dealer's Top Workplaces award recognizes 150 companies and organizations in Northeast Ohio based solely on anonymous surveys about the workplace completed by their employees. One could list many contributing factors to the successful culture at Jarrett Companies, but we have identified a few of those components through our surveys: the people, the team environment and the family-oriented culture.
Our people are the cornerstone of everything we do. The employee base is the heartbeat of the company and one of the largest contributions for a great culture. One of our employees described the culture by saying,
"Teamwork is crucial in every aspect of what we do. Whether it's in-house, carriers, customers or vendors, we all work together to supply the best service we can and help the other parties do the same."
Our team's sizes range from six to twelve people, which allow each person to have a voice in a collaborative environment. At Jarrett Companies, we are an extension of our customer and community partnerships, whether that is seen through offering supply chain solutions or providing a family-friendly fitness facility. The city of Orrville is a haven from the hustle and bustle of a larger metropolitan area, and the small-town culture that makes up the city is seen through the family-oriented atmosphere of Jarrett Companies.
Our employees describe our culture as Progressive, Lively, Driven and Open. These are qualities we strive to cultivate and pervade throughout Jarrett Companies.
Interested in joining one of the Top Workplaces in Northeast Ohio? We'd love to start a conversation. Reach out to us by sending an email to HR@jarrettlogistics.com. We're looking forward to hearing from you!