A third-party logistics (3PL) provider supports supply chain operations through handling transportation and logistics needs for an organization.
3PLs collaborate with businesses on their order fulfillment, warehousing, transportation, distribution, shipping, and receiving needs. They use their own logistics expertise so that businesses can focus on their bottom line.
Benefits of a 3PL
Logistics Expertise: Companies decide to use 3PLs because of the complexity of their supply chain. 3PLs that specialize in streamlining logistics can provide quick solutions, share strategies for cost savings, and support when mitigating problems.
Operational Excellence: 3PLs can improve performance in various parts of a company's supply chain. Oftentimes, 3PLs provide multiple services including packaging, warehousing, fulfillment, distribution, transportation management, risk mitigation, claims, and returns. As a dedicated team, 3PLs have the resources to be flexible and meet changing demands of a client who receives the final product.
Transportation-related Cost Savings: 3PLs often provide clients with cost savings. This could be a result of having better carrier pricing, processing claims, choosing the best mode, or saving time. Ultimately, 3PLs will save a company time typically spent on logistics operations. With more time, they can focus on more strategic initiatives for their company.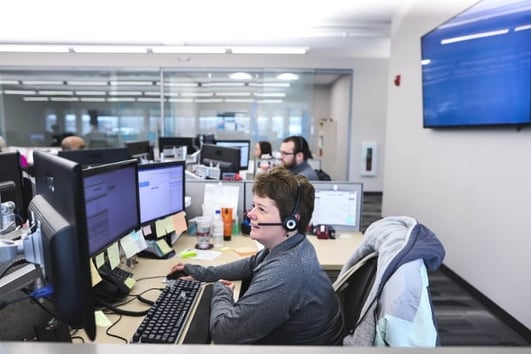 The Breakdown
3PLs can specialize in one or all of the following:
Warehousing: Every business knows that managing inventory is an essential task. Your inventory is your capital, so getting this step right has many benefits: SKU optimization, operational efficiencies, minimized risk, and supply chain control. A Warehousing Management System (WMS) can help achieve these goals.
Order fulfillment: From large consumer packaged goods companies to industrial manufacturers shipping raw materials, companies have very specialized supply chain and fulfillment needs. Services can include kitting, drop-shipping, customized shipping, short- or long-term storage, labeling, and consolidation/deconsolidation.
Transportation Management: Assisting with inbound and outbound shipments from a variety of locations including USA, Canada, Mexico, and international shipping.
Claims: During transit, packages can sustain damages resulting in a claim. Some 3PLs offer claims management services to take the hassle out of navigating freight damages. Best practices for preventing claims include staying focused on proper packaging procedures and utilizing the right carriers.
Returns: 3PLs handle more than freight that moves downstream in the supply chain. Experienced partners will handle returns management to make for a more positive customer experience.
Common Questions
Is a 3PL right for my business?
There are a couple crucial questions you can ask to determine if a 3PL is right for your business. How many orders are you fulfilling a day? Are you lacking inventory space? Do you wish you could spend more time on strategic corporate initiatives instead of carrying out daily shipping execution?
Answering these questions can help you decide if a 3PL is a good fit. Our team of experts at Jarrett are always available to help you determine if a 3PL could be beneficial for you.
How do I choose a 3PL?
Choosing the correct 3PL provider is crucial to making the correct business decision for your company. A good first step is assessing your business' needs. Depending on how you answered the questions above can inform you of this.
You'll want to look for 3PLs that specialize in all the services you need.
As with any company, you'll also want to look at the values of the organization. If the company holds values that are also important to your organization, you should expect that they'll handle your freight with the same mindset and attitude.
It's also important to look for 3PLs that can offer customized solutions tailored to your transportation needs. Strong core values working in tandem with a specialized solution is powerful.
What if I don't want to give up control of my supply chain?
You don't have to! Trustworthy 3PLs work as an extension of your business. Not all 3PLs are about replacing people or making all the decisions for your business. Their priority is to help put time back in your day.
Then, you can spend more time making strategic decisions for your company and not fret with the daily tasks of your shipping needs.
For more information or questions on 3PLs, contact us at info@gojarrett.com or fill out a 'Contact Us' form here."