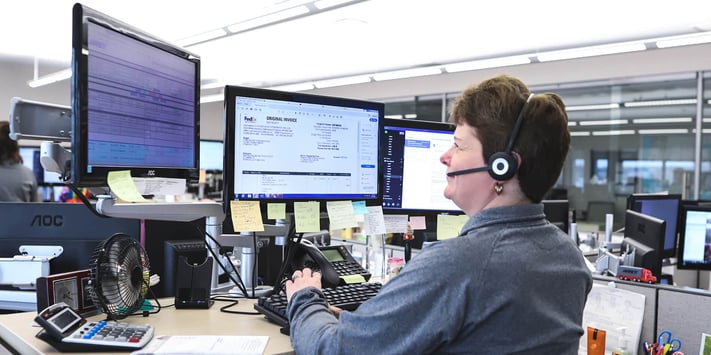 The logistics industry is becoming increasingly more competitive. And with market volatility, supply chain issues, labor shortages and more, companies need to reevaluate their business strategies. It takes both the right technology and the right people to make this a reality. Many companies turn to Jarrett when they need a trusted and experienced partner to help transform their businesses.
The Right Technology
Jarrett's premier technology platform is jShip. This award-winning proprietary Transportation Management System (TMS) supports freight shipping activity and helps gain more control over customers' supply chains. As one of the leading Transportation Management Systems in the industry, it complements the JLS Routing Center by giving customers access to secure, efficient, personalized order entry and real-time data that delivers world-class supply chain visibility.
Customers with more advanced needs leverage the jShip Elite version to achieve a more optimized supply chain through added technology features like load planning and mode optimization using automation technology. These added features provide:
LTL carrier optimization

Multimodal optimization

Order optimization

Load planning

Multimodal tender/dispatch shipment execution
The Right People
Having visibility into your supply chain means having access to data and insights. However, it requires more than simply having access to that information. It also requires having the ability to develop actionable strategies and decisions as a result. JLS Routing Center professionals offer hands-on, personalized service – where they answer the call in 3 rings or less, 24/7/365, and reply to emails in 10 minutes or less – by leveraging these key data and insights and working with customers to develop proactive solutions. When data, insights and technology are used properly, they can lead to cost reduction, more on-time pick-ups and deliveries, as well as the ability to measure success and improve your overall supply chain process.
A Case Study
One industrial manufacturing customer partnered with Jarrett for both its people and its technology. It was critical that they find a way to streamline their multiple systems and overall operations to reduce error and increase accuracy. The jShip Elite TMS was exactly what they were looking for. And with Jarrett's responsive and experienced team leading the way, the customer was able to:
Begin integrating disparate ERPs, some of them legacy systems, with a single TMS

Combine truckload opportunities and optimize shipments going to Canada

Make their logistics plan part of their corporate sustainability initiative, with multi-stop truckloads and consolidated shipment options supporting their goals

Use algorithmic load planning that calculates in seconds what might otherwise take hours, allowing their employees to do the high-value work of approving the plan and guiding the shipment process

Save $1.1 million in logistics savings on $5.7 million of LTL transportation spend – a nearly 20% savings on LTL transportation in 1 year.
We help our customers transform their supply chain and create growth by leveraging technology and people to drive efficiency and profitability. Contact us to learn how we can help you transform you supply chain by calling 877-815-0279 or by visiting https://www.gojarrett.com/logistics.