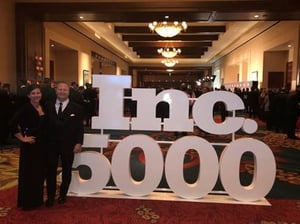 On Friday, October 19, 2018, Jarrett Logistics Systems' (JLS) President and Founder, Mike Jarrett, was presented with the Inc. 5000 award for Best Use of Technology to Fuel Business Growth. The award was given by Intel, a supplier of processors for computer systems, a leader in technology innovation and sponsor of the Inc. 5000. This year's award represents the 13th time Jarrett Logistics Systems has been named to the Inc. 5000, an achievement that only seven companies have ever accomplished. JLS has grown a staggering 87% in the last 3 years and is showing no signs of stopping.
The Inc. 5000 Black-Tie Gala was the crown jewel at the end of an epic three-day event held at the J.W. Marriott San Antonio Hill Country Resort & Spa in San Antonio, Texas. Mike and his wife, Diane Jarrett, posed next to the Inc. 5000 sign the evening of the Gala. They both enjoyed themselves and later recounted the events of the various sessions and offered insights on the future of JLS.
Optimism Overcomes Adversity
A memorable main stage session presented by Gretchen Rubin, author, The Happiness Project, Happier at Home, Better Than Before, and The Four Tendencies spoke about The Future of You: How to Be Better (and Happier) Than Before. In her presentation, she described the four indispensable personality profiles, and how understanding them enhance your life by developing a better understanding of those in a work environment. Quoting from her book, The Four Tendencies, those personalities consist of:
Upholders who respond readily to outer and their own inner expectations
Questioners that question all expectations; they'll meet an expectation if they think it makes sense--essentially, they make all expectations into inner expectations
Obligers who meet outer expectations, but struggle to meet expectations they impose on themselves
Rebels that resist all expectations, outer and inner alike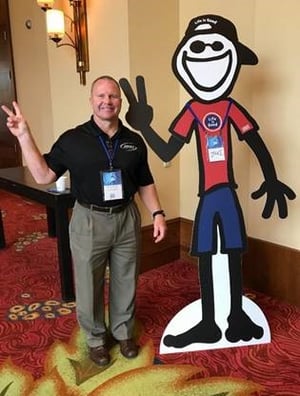 These four personality characteristics play an integral part in recruiting and retaining JLS employees. The session revealed the power of human habit and understanding effective ways to communicate with each personality. Bert Jacobs, co-founder and chief executive optimist, of Life is Good; and author, Life is Good: The Book spoke on the unshakeable attitude of optimism. He tapped into unlocking your potential by building the business (and life) you want. His colossal brand concept, Life is Good, originated at his parent's dinner table. The simple and powerful idea started when John (Bert's brother) and Bert were kids and their mom would look at them and say, "Tell me something good that happened today." This sparked the creative idea that would springboard Bert's T-Shirt company into a movement of optimism.
"In the midst of difficult and stressful times of starting our business an optimistic attitude was imperative to our current success." -- Mike Jarrett
A positive outlook in our personal and professional lives, despite adversity, can be the persistence needed for long-term gain. True optimism isn't relative to external circumstances but steadfast in the face of difficulty.
Humility Leads to Innovation
The co-founder and CEO of MailChimp, Ben Chestnut, led a seminar from the lessons he learned from building a $600 million marketing empire. His company went through a few evolutions before focusing on their current email marketing giant. Ben expounded on keeping your eyes on new opportunities. He believes in an open-door policy for anyone to share new business ideas.
One of his employees suggested running ads on an up-and-coming podcast. The Serial Podcast is current the number one most downloaded podcast with 250+ million downloads. The idea wasn't a lofty strategic initiative with years of planning. It came from an employee offering an educated suggestion and Chestnut's humility and willingness to value their idea. That idea propelled MailChimp to the forefront of email marketing. They had a captive and loyal audience consistently listening in to the Serial Podcast. Due to MailChimp being an early adopter of advertising space, they secured the prime advertising times as The Serial Podcast grew their following. It all starts with a company culture focused on growth and embracing new ideas. The culture at JLS relies on innovation, new ideas, and openness.
"I believe in the same principals Ben Chestnut discussed. It's important to create an atmosphere conducive to creating and sharing ideas for the benefit of our customers, employees, and community. A humble approach in operating a business is an intangible characteristic of high value," -- Mike Jarrett.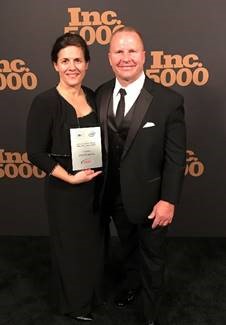 Honesty Concretized in Water
Day 3 had an impactful and emotionally moving mainstage session presented by speaker Scott Harrison, founder and CEO of charity: water and author of his book, Thirst. Harrison spent 10 years of his career as a nightclub influencer in New York prior to embarking on his journey volunteering in West Africa as a photojournalist. During his time in Africa, he was impacted by the lack of water and its poor quality. The presence of parasites and bacteria found in the water has caused devastating health defects, and Harrison knew something had to be done. Since Harrison started charity: water in 2006, they have engaged over 1 million donors worldwide funding 28,000 water projects in 26 countries. These efforts have brought clean water to over 8.2 million people worldwide.
Harrison described how transparency and honesty are keys to a successful business. He purposely separated the account designated for water projects from money he used to operate charity: water. At one point, he had nearly a million dollars in the account dedicated to funding water projects and less than a hundred in his operating non-profit account. Harrison refused to touch the account devoted to for the water projects around the world. So, he did what any previous nightclub influencer would do. He threw a 31st birthday party for himself and charged a $31 admission fee. In one night, he raised over eighty thousand dollars to keep his non-profit operating. He was the catalyst to a movement of people raising money on their birthdays for their favorite charity. A company built on the foundation of integrity and transparency leads to innovation. The compassionate and heartfelt mission of charity: water artfully illustrated by Scott Harrison led to Mike and Diane to purchase a well in West Africa.
"After hearing the compelling story of charity: water, we decided to donate $12,000 for the installation of a new well to serve the people of Uganda. We felt that the amount represented $1000 for each of the prior years that we had been named to the Inc. 5000 list and would be a concrete way for our employees to share in the honor of the Inc. 5000 list. Over the next 21 months, we will get updates to share with our employees about work on the ground in Uganda and progress toward a new well to bring clean water to 400 people who currently do not have access to it." -- Diane Jarrett
JLS is committed to the highest levels of ethical conduct in all that we do. Honesty and integrity engender trust, which is the cornerstone of our business. Our mission is to hire people of character and empower JLS members with the tools for personal and professional success.
The People Behind Our Technology
Why has Jarrett Logistics Systems been awarded Best Use of Technology to Fuel Business Growth? Simply put: our employees and customers. Our advanced technology is an investment in JLS employees to improve processes for our customers. JLS's technological successes come from the employees who support it and customers who utilize it to streamline their supply chain.
"In a world where everything is at our fingertips, it is imperative that we are continuously innovating our logistics technology for our clients. By launching JLS Advance Analytics, our clients can now experience increased visibility and reporting, all through an interactive intelligence portal." -- Mike Jarrett
This award demonstrates our focus and dedication to continuous improvement. We are committed to professional development of employees by equipping them with the tools and technology to service our customers with effective and efficient processes. Our commitment is to meet or exceed expectations of our customers. Mike's personal goals are to continue to grow and create jobs. By offering competitive pay and reinvesting back into Jarrett Logistics provides high growth. It is important to create opportunities for employees to grow personally and professionally. Personally – by supporting themselves and caring for their families. Professionally – managing people effectively and thinking strategically.
It is an immense honor and privilege to receive the Inc. 5000 Best Use of Technology to Fuel Business Growth Award. It would not have been possible without our dedicated employees and loyal customers. JLS is committed to continuous improvement, hiring people of character, and forging into the future of the transportation and logistics industry.