There's no questioning that business impacts our world. Businesses provide jobs, influence consumer behavior, affect the economy, and make useful or necessary resources available. Businesses also have another impact on social responsibility.
As businesses continue to use resources and energy to produce new products or run buildings, our environment is impacted by the choices of our business. At Jarrett, we believe in doing our part to reduce waste and increase efficiencies. We practice sustainability because it is our duty as a business to have a positive effect on our environment. Efforts of efficiency and conservation will enable the ability of future generations to continue to care for our world.
"Investing in green technology and sustainable initiatives are a priority for us at Jarrett. We see doing our part to contribute to a more energy efficient world as a business best practice," Mike Jarrett, President and CEO of Jarrett said. "Our goal is to reduce waste, whether that be material or energy, throughout supply chains, warehousing, and fleet services."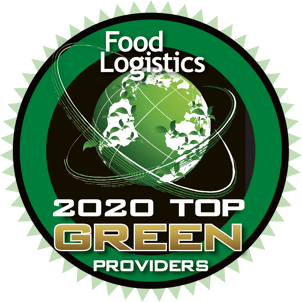 Food Logistics, the top resource for supply chain executives in the global food and beverage industries, recently named Jarrett to the Top Green Providers list for 2020. Food Logistics' annual Top Green Providers recognizes companies enhancing sustainability within the food and beverage industry.
Jarrett has a variety of green initiatives throughout our various business verticals. At our Logistics Systems division, one of our green initiatives includes the Paperless Invoice Initiative. Under this project, over 637,000 invoices, 93% of total invoices, have been sent electronically, as opposed to printed out on paper. This is a significant increase from our original 21% when the initiative started in 2016.
Part of our goal is to have carriers join us in going paperless and build positive relationships with them. We started with our larger carriers and created an on-boarding process for our remaining carriers.
Another benefit that came as a result of our Paperless Invoice Initiative, was the resulting time and cost savings. It cuts down on the time spent looking for bills. Also, the ability to match shipping data helps remove the potential for human error.
These results are tracked via EDI (Electronic Data Interchange). Overall, we can see what shipments are approved manually vs. automatically.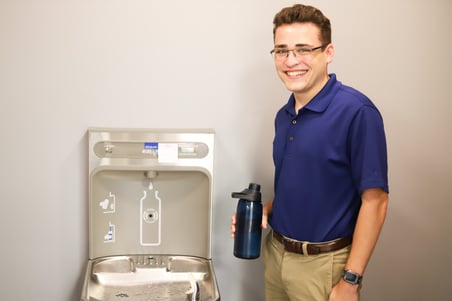 In our Jarrett buildings, we are also focused on water conservation. We added reusable water bottle fillers to minimize plastic water bottle use at our drinking fountains. Employees are encouraged to be socially responsible and bring reusable water bottles to fill up during the day. We have saved thousands of plastic bottles from winding up in landfills.
Over at Jarrett's maintenance and service center, Jarrett Fleet Services, our technicians are diligent about scrapping aluminum and steel.
We also have a 70-foot-long sandblasting bay that sustainably reclaims and reuses its sandblasting media. We use metal shot instead of sand to blast off paint and rust off the steel equipment. 80% of the metal shot can be reused thousands of times, while the sand could be used only once.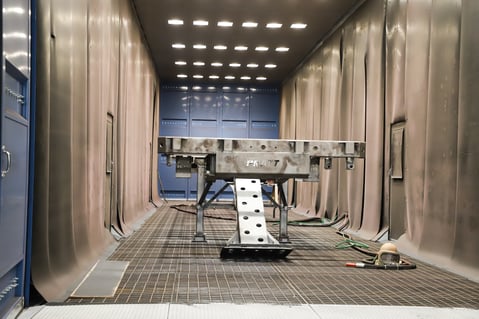 This technology allows us to focus on recycling our resources, while still making equipment look good as new. Fleet maintenance has a potential to produce a lot of waste (exhaust, oil, scrap metal, and other chemicals). Reducing the use of these materials or energy is top of mind at our service centers. We also work with our clients to enable them to keep their trucks and trailers running in a sustainable manner.
Lastly, at our Jarrett Warehousing space in Orrville, OH, we have thousands of square feet operated by motion sensored lights. This saves energy by only lighting up when prompted by movement in the section of the warehouse that is being utilized.
If there is no work being done in a particular section of the warehouse, the lights are off. This results in a substantial amount of energy conservation. Our warehouse is also climate controlled for temperature sensitive products. This is done in a conservative way to minimize our energy consumption.
---
With all of our verticals, there are many opportunities to practice sustainable business practices. Investing in environmentally friendly technology is always part of the consideration as we think about adopting new tools.
Acting with an environmentally conscious mindset brings benefits to the Earth and your bottom line. Oftentimes, there is cost and time savings that come along with strategic moves to be a green business. All in all, sustainable initiatives can save time, money, and the world.
If you're interested in learning more about green supply chain management, reach out to one of our transportation experts at info@gojarrett.com or visit our website!