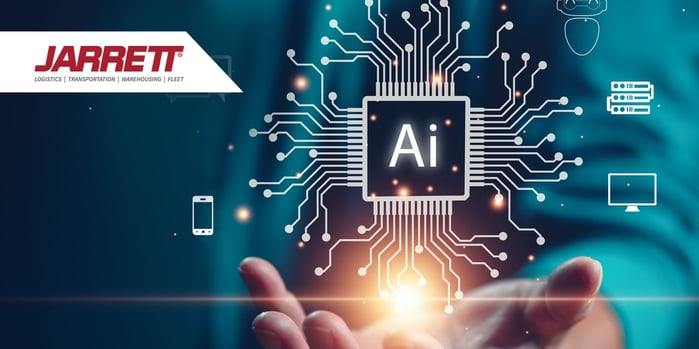 Increasingly, shippers are using AI-powered tools to solve daily challenges. However, implementing new and advanced technology is risky due to uncertainties in cost, project completion timelines, and change management.
An easier way to apply the power of AI is by engaging a skilled logistics partner with advanced systems that can integrate seamlessly with your supply chains. This article highlights some top use cases for AI in transportation and logistics and gives three top tips for selecting a logistics partner.
Plug-and-play AI
Transportation teams have a firehose of data. Harnessing the power of AI through computers and algorithms that emulate human thought enables teams to utilize data more effectively. AI fills a human void by performing critical tasks with remarkable processing power and speed.

Typical applications for AI in logistics identify patterns in data to reveal insights. A few ways that logistics providers can use AI technology to benefit shippers are:
Predictive ETAs. Shippers no longer must rely on averages for shipment transit times. A logistics partner can feed various data points into a system that predicts accurate ETAs for international and domestic shipments. The ETAs account for weather, port performance, and other details to provide realistic delivery schedules.
Better rates. The same AI systems that predict ETAs can actively track demurrage and detention at ports and shipping or receiving locations. With predictive insights, a logistics partner can help shippers avoid fees and obtain better carrier rates.
Faster load matching. A logistics partner can predict carrier lane preferences and obtain the best rates by collecting data from load boards, emails, and other data sources. The partner can send auto-tenders to carriers based on their lane preferences for fast acceptance.
Cybersecurity. No shipper wants to tell customers that it was the victim of a cyberattack. A logistics partner can use AI to identify threats to its servers and workstations as a first line of defense.
Getting Onboard Quickly
Implementing AI-powered systems can be a juggernaut for shippers, especially with data siloes and juggling multiple projects complicating the task. Logistics providers with advanced technology can get shippers quickly up to speed with solutions that cut through complexity and deliver immediate results.

Three of the most essential attributes to look for in a logistics partner who can fill gaps in your systems with cutting-edge technology solutions are:
#1: Seamless Integration
According to Forbes, technology integration is one of shippers' most significant challenges. Two-thirds (67%) of shipping and logistics firms say they have a strategy to digitize business processes but need help breaking integration roadblocks to achieve high levels of automation and visibility.

A logistics partner should provide a seamless integration experience with systems that adapt to your data requirements. Having reliable connections to exchange orders, shipment tracking data, invoices, and other electronic communications is just the beginning.

Whether your systems use electronic data interchange (EDI), real-time APIs, or if you have a unique structure for reporting and sharing data, a logistics partner that can quickly accommodate those needs will save time and money by eliminating manual touchpoints, freeing your staff to focus on more strategic initiatives.
#2: Operational Flexibility
Besides connecting with your systems to share data and provide greater automation and visibility, a logistics partner adds value by giving you a hands-off approach to coordinating transportation, warehousing, and fulfillment needs.

A highly skilled logistics partner that leverages AI and machine learning can provide highly accurate information on market capacity, lead time, delivery information, and more. Also, the logistics partner will seamlessly manage execution of your orders, starting with ocean container shipments from China or India, for example.

Containerized shipments will be completely hands-off for your team from the origins through domestic ports and warehouses, onto the fulfillment of raw or finished goods to your customers via truckload, LTL, and parcel carriers.
#3: Continuous improvement
A top logistics partner that uses AI-powered systems to deliver automation, visibility, and hands-off execution of your transportation is not just concerned with present performance. A true partner will constantly work to improve results through collaboration and leveraging new technology.

Continuous improvement is the only way to meet the increased delivery demands of end customers. In the age of Amazon, nearly 77% of consumers now expect deliveries in less than two days. Logistics partners can help shippers meet those expectations at a lower cost by leveraging economies of scale and cutting-edge technology.
Finding the Best-Fit Solution
Getting raw and finished goods to their destinations on time and within budget requires a daily evolution of logistics strategy and technology. Rather than become experts in AI, shippers can enter strategic partnerships with innovative logistics companies to make their supply chains more resilient, responsive, and efficient to weather any storm ahead.

Download our latest guide, "Navigating the Storm: A Shipper's Guide to Choosing the Right Logistics Partner," for insights into what matters most for evaluating your transportation strategies for the year ahead.

As one of the nation's top logistics companies, Jarrett Logistics aims to create continuous improvement opportunities by combining high-touch, personalized service with cutting-edge technology.

Jarrett is a privately held, family-owned 3PL headquartered in Orrville, Ohio. We believe in innovation and support our employees in doing great things for our clients daily.

Discover more at www.gojarrett.com