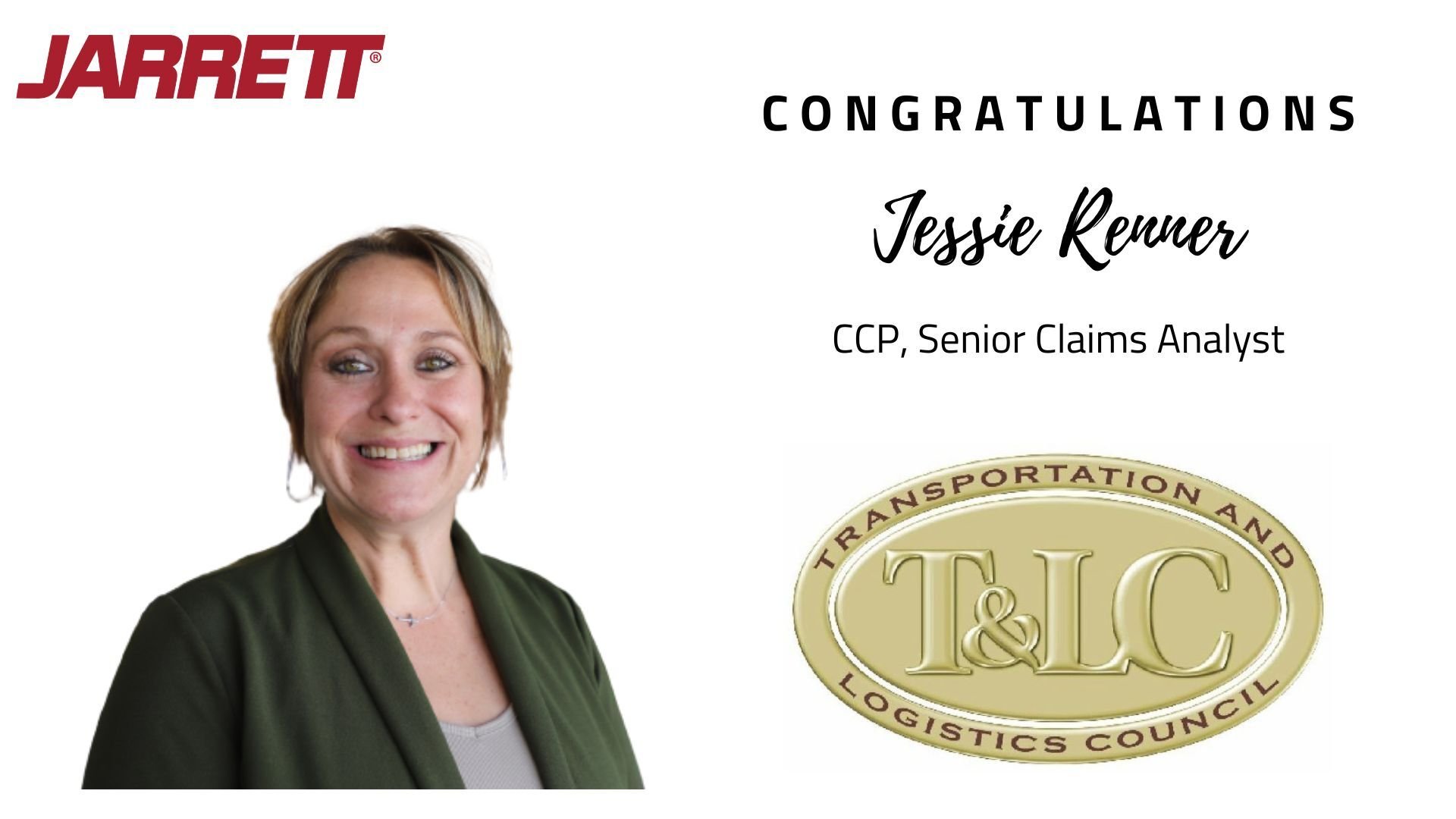 Orrville, Ohio July 20, 2022 -- Jarrett's Jessie Renner has been nominated to join the Transportation and Logistics Council (T&LC) by George Pezold, renowned transportation lawyer, author of Freight Claims in Plain English, and Executive Director of T&LC. Jessie will be one of eighteen people in the entire country sitting on this board, which is made up of experts in the field of transportation and logistics.
Jessie Renner, a senior claims analyst for Jarrett, has been with Jarrett for seven years. In her role, Jessie supervises claims from Jarrett's third party logistics services and asset-based services for Jarrett Trucking. Jessie is also the Vice President of Communications and ProClaim for the Claims Professional Accreditation Council (CCPAC), where she has held a seat on the board since 2020. She is married to her husband Josh, with two beautiful children, Ella and Nicholas. Jessie enjoys going to work everyday and feels blessed by the opportunities to grow personally and professionally, provided to her by Jarrett.
"This board, made up of a wide range of transportation management professionals, is very different from the CCPAC board I serve on. While the CCPAC board is made entirely of certified claims professionals (CCP's) focusing primarily on cargo claims, T&LC looks at the supply chain as a whole" said Jessie "being a T&LC council member will give me new insight on how to best represent our customers as they maneuver through the supply chain industry and recoup what they have lost through the cargo claims process. Going forward into this new position, I am excited to make more connections and continue to grow my knowledge in the field of transportation and logistics."
In her position on the T&LC board, Jessie will be the Regional Director with duties including planning and attending the T&LC Annual Conference, promotion of the Council's educational programs, and writing a guest article for the TransDigest.
We are excited for Jessie in her new leadership role and cannot wait to watch her excel in this position!
###
ABOUT JARRETT
Jarrett is guided by our eight core values: Courage, Character, Civic Responsibility, Excellence, Entrepreneurial Spirit, Respect, Fairness and Compassion. Our mission is to put exceptional people and innovative technology at the center of your supply chain. Jarrett's vision is to be a market leader in the supply chain industry by delivering world-class service to our clients while staying true to our family-owned values. Partnering with Jarrett, clients are able to anticipate and resolve supply chain challenges, unlock operational efficiencies, and lower transportation-related costs. Founded in 1998 and headquartered in Orrville, OH. Additional locations for Jarrett include Cleveland, OH, and Hickory, NC; warehousing locations in Orrville, OH and Leola, PA; and fleet services centers located in Seville, OH and Kent, OH. Jarrett has multiple accolades including: Inc 5000 Fastest Growing Companies (15x), 2021 Green Supply Chain Award, and Food Logistics Top Green Provider (3x). For more information about the company, visit www.gojarrett.com.