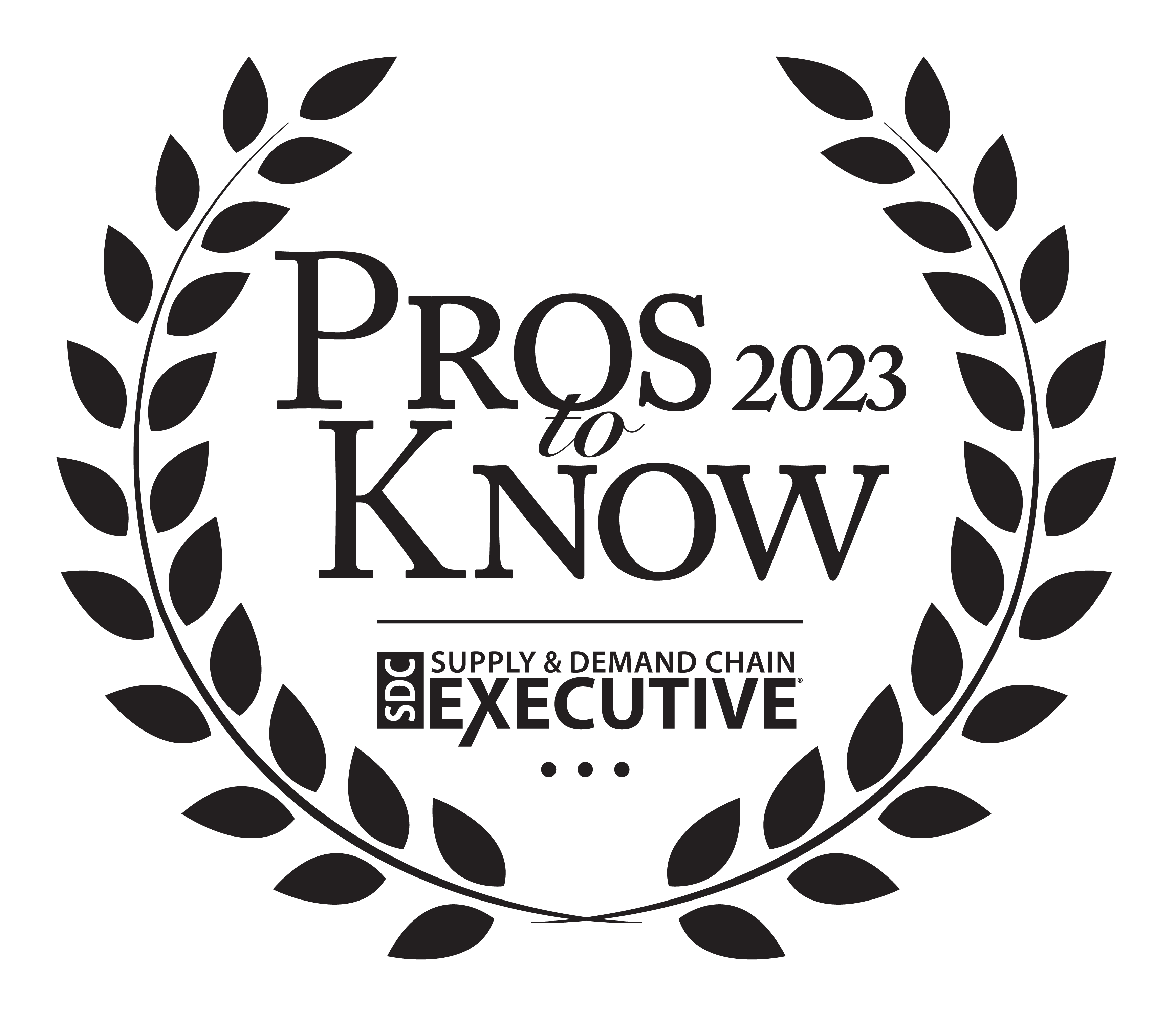 Orrville, Ohio, March 23, 2022 — Supply & Demand Chain Executive, the only publication covering the entire global supply chain, named Jared Williams, Director of Logistics Operations for Jarrett Companies as a winner of the 2023 Pros to Know Award. This award recognizes outstanding executives whose accomplishments offer a roadmap for other leaders looking to leverage supply chains for competitive advantage.
"This year's list is filled with supply chain professionals whose achievements and success stories have helped move the needle in the supply chain. They promote safety, sustainability and workforce development. They work toward helping heal the supply chain. They're actually in the supply chain," said Marina Mayer, Editor-in-Chief of Supply & Demand Chain Executive and Food Logistics.
President and CEO of Jarrett, Mike Jarrett, expressed his excitement for Jared's honors in saying, "Jared is an outstanding executive leader at Jarrett. He is dedicated to his work, to our company, and to providing expert advice for our team, every day. He deserves recognition as Supply and Demand Chain Executive's Pros to Know because he exemplifies Jarrett's core values and leads by example in everything he does."
"I am humbled and grateful for the recognition of being named as one of the 2023 Pros to Know. I could not have achieved this without the support of my colleagues, mentors, and the entire team at Jarrett," says Williams. "As a logistics professional, I take a personal approach to each client's needs by delivering exceptional customer service and designing unique solutions to support their entire supply chain. I am proud to be part of a company that values excellence and allows its employees to take an innovative approach to logistics."
For more on how Jarrett's experts can help you with your supply chain needs, visit www.gojarrett.com.
ABOUT JARRETT
Jarrett is a family-owned and values-based company guided by four principles: obsession with clients rather than competitors, being proactive, unrelenting integrity, and putting its people first. Jarrett is a leading provider of transportation and logistics services for manufacturing companies, wholesalers and distributors who ship or receive products globally. Jarrett helps companies optimize their complex and sometimes chaotic supply chains, saving them time and money, but most importantly to allow them to focus on the things that matter most to them. Clients depend on the backbone of our operations — JLS Routing Center and JShip Elite, a robust and proactive transportation management system (TMS) — to transform their supply chains into a predictive and responsive, strategic advantage for their business. Jarrett's service offerings are focused on Procurement, Technology, Freight Payment Services, Business Intelligence, Warehousing, and Distribution. Using these services, Jarrett clients are able to anticipate and resolve supply chain challenges, unlock operational efficiencies, and lower transportation-related costs. Founded in 1998 and headquartered in Orrville, OH, Jarrett currently serves thousands of global clients, millions of shipments, and over $250 million of freight under management (FUM). Industries Jarrett serves are Chemicals, Automotive / Aerospace & Defense, Industrial Manufacturing & Distributing, and Consumer Products & Goods. Additional locations for JARRETT include Cleveland, OH, and Hickory, NC, Buffalo, NY, Winston-Salem, NC, and Toronto, Canada; warehousing locations in Orrville, OH and Leola, PA; and fleet services centers located in Seville, OH and Kent, OH. JARRETT has multiple accolades including: Inc 5000 Fastest Growing Companies (15x), 2021 Green Supply Chain Award, Food Logistics Top Green Provider (3x), and Top Workplaces Award (5x). For more information about the company, visit www.gojarrett.com.
About Supply & Demand Chain Executive
Supply & Demand Chain Executive is the only supply chain publication covering the entire global supply chain, focusing on trucking, warehousing, packaging, procurement, risk management, professional development and more. Supply & Demand Chain Executive and sister publication Food Logistics are also home to L.I.N.K. and L.I.N.K. Educate podcast channels, L.I.N.K. Live, SCN Summit, SupplyChainLearningCenter.com, Women in Supply Chain Forum and more. Go to www.SDCExec.com to learn more.