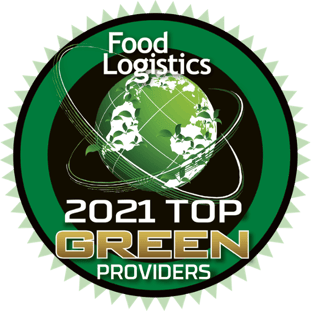 The Food Logistics annual Top Green Providers list recognizes companies whose product, services or exemplary leadership is enhancing sustainability within the cold food and beverage industry.
This is the third consecutive year Jarrett has been named to the list, speaking volumes for the company's many sustainability efforts.
"Investing in green technology and sustainability initiatives is a priority for us at Jarrett," said Michael Jarrett, president and CEO at Jarrett. "We see doing our part to contribute to a more energy efficient world as a business best practice."
Food Logistics' staff evaluates a company's participation in sustainability programs; facilities that feature solar panels, LED lighting or other energy saving installations; and other means of producing measurable reductions in GHG emissions.
At Jarrett, each vertical strives to promote long-term sustainability efforts into every day work life. At Jarrett Fleet Services, technicians are diligent about scrapping aluminum and steel and using the sandblasting bay to reclaim and reuse sandblasting media.
The Logistics Systems division has implemented the Paperless Invoice Initiative which in 2020 had 92 percent of total invoices electronically versus printed. Jarrett encourages its carriers to join them in this initiative as well.
The Warehousing space has thousands of square feet operated by motion sensored lights to save energy in sections of the warehouse not being utilized.
The Jarrett buildings are also equipped with bottle filling stations to help eliminate single-use, plastic bottles. One building alone has been able to eliminate over 26,000 disposable plastic bottles. Jarrett also uses 100% recycled toilet paper in all of the bathrooms throughout the company.
"Our goal is to reduce waste, whether that be material or energy, throughout supply chains, warehousing, and fleet services," said Michael Jarrett.
Stay up-to-date with Jarrett on LinkedIn, Facebook, and Instagram.