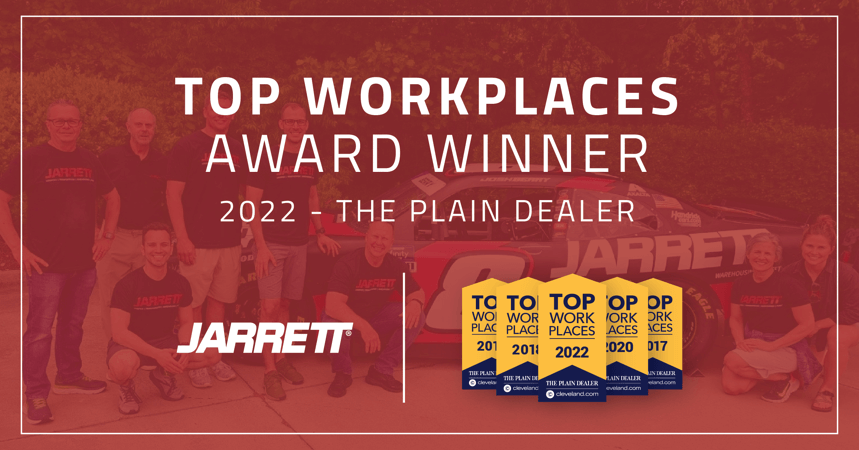 Orrville, Ohio June 26, 2022 – Jarrett is a winner of the Top Workplaces 2022 award by The Plain Dealer and Cleveland.com! This list is based solely on employee feedback gathered through a third-party survey administered by research partner Energage, LLC. The anonymous survey measures several aspects of workplace culture, including alignment, execution, and connection, just to name a few. Winning this award five times (2016, 2017, 2018, 2020, 2022) demonstrates that their people believe in the direction Jarrett is going, and support the goals and objectives of their company.
"Since COVID, Jarrett has faced a great amount of change, seen record growth, and taken on many new and exciting challenges," says Rob Churgovich, director of human resources at Jarrett. "With Jarrett's Core Values at the center of our workplace, the accomplishments we receive are a direct reflection of the character, integrity, and work ethic displayed in our employees."
Jarrett puts exceptional people and innovative technology at the center of your supply chain. Our business strategy is hiring world-class people, to produce world-class services for our clients.
"Providing employees an environment to grow personally and professionally is part of the process of allowing them to be part of something bigger than themselves," said the President and CEO of Jarrett, Mike Jarrett. "When you come to work at Jarrett, we hope for employees to build relationships with other employees; to feel part of an organization that cares about who they are and what they do; to know that their work is meaningful; to feel that they are making a positive impact; and to feel appreciated. We know that trust and loyalty creates a winning culture, and with such, we can make the impossible possible."
More information on employment opportunities and Jarrett's world-class culture can be found by visiting: https://www.jarrettcareers.com/
###
ABOUT JARRETT
Jarrett is guided by our eight core values: Courage, Character, Civic Responsibility, Excellence, Entrepreneurial Spirit, Respect, Fairness and Compassion. Our mission is to put exceptional people and innovative technology at the center of your supply chain. Jarrett's vision is to be a market leader in the supply chain industry by delivering world-class service to our clients while staying true to our family-owned values. Partnering with Jarrett, clients are able to anticipate and resolve supply chain challenges, unlock operational efficiencies, and lower transportation-related costs. Founded in 1998 and headquartered in Orrville, OH. Additional locations for Jarrett include Cleveland, OH, and Hickory, NC; warehousing locations in Orrville, OH and Leola, PA; and fleet services centers located in Seville, OH and Kent, OH. Jarrett has multiple accolades including: Inc 5000 Fastest Growing Companies (15x), 2021 Green Supply Chain Award, and Food Logistics Top Green Provider (3x). For more information about the company, visit www.gojarrett.com.
ABOUT ENERGAGE
Making the world a better place to work together.TM
Energage is a purpose-driven company that helps organizations turn employee feedback into useful business intelligence and credible employer recognition through Top Workplaces. Built on 14 years of culture research and the results from 23 million employees surveyed across more than 70, 000 organizations, Energage delivers the most accurate competitive benchmark available. With access to a unique combination of patented analytic tools and expert guidance, Energage customers lead the competition with an engaged workforce and an opportunity to gain recognition for their people-first approach to culture. For more information or to nominate your organization, visit Energage or Workplaces.