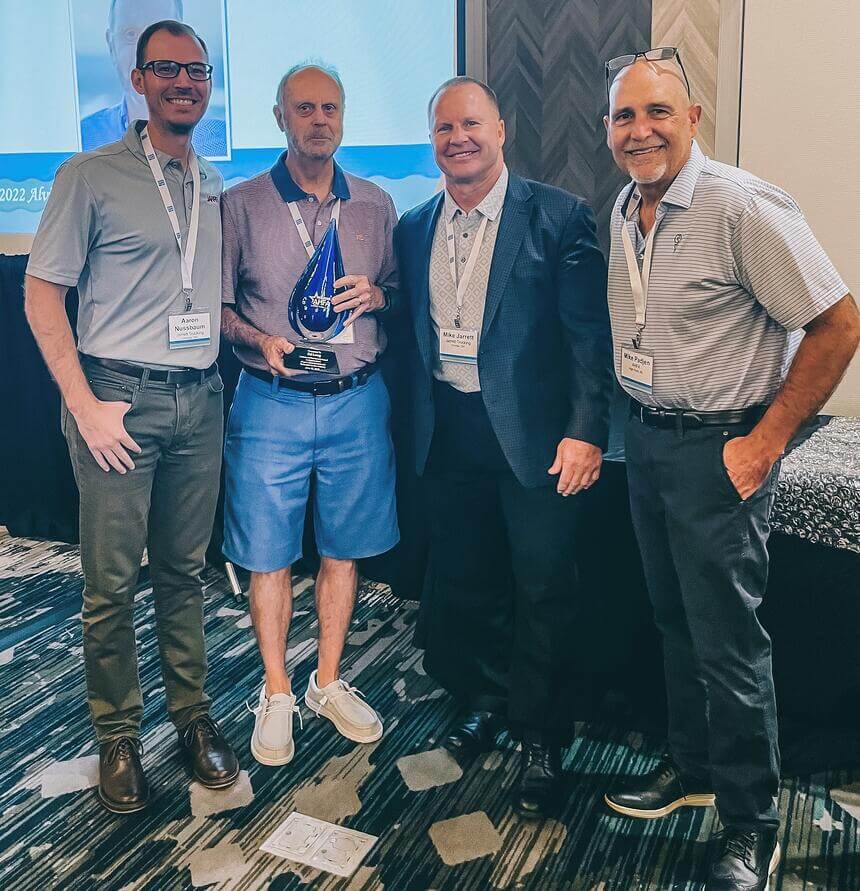 From left to right - Aaron Nussbaum Director of Logistics Operations at Jarrett, Ed Long: Director of Business Development Jarrett Trucking, Mike Jarrett President and CEO of Jarrett, Mike Padjen, VP Membership & Associate Member Relations, AHFA
Orrville, Ohio, June 22, 2022 -- Ed Long, Director of Business Development at Jarrett Trucking, received the Alvin W. Daughtridge Lifetime Achievement Award from AHFA's Specialized Furniture Carriers last week at the 2022 AHFA Logistics Conference in Wilmington, NC.
After graduating from the University of Tennessee in 1972 with a bachelor's in Business Administration, specializing in transportation and logistics, Ed began his abundant trucking career at Glosson Motor Lines in Lexington, North Carolina. In the mid 70's, Long moved to RC Motor Lines to work in sales. Following his work with RC Motor Lines, Long began with Old Dominion Freight; starting in the furniture division of sales, working his way up in the industry throughout his ten years with the company. In the late 80's, Ed joined W&L Motor Lines; holding the position of Vice President for over a decade.
In 1998, Long purchased Harold Shull Trucking - renaming it Shull Transport. In 2009, following the acquisition of Guardian freight, Shull Transport expanded operations into 23 states. This merger gave Shull a delivery area encompassing nearly two-thirds of the US stretching from the Northeast to California. After 13 years, he sold Shull Transport to SunBelt Xpress where he was brought on as Vice President of Corporate Development. In this position, Long played a key role in completing the mergers of various operations.
Throughout his career, Ed has been on the board of several organizations related to the trucking industry, including the AHFA. Within the trucking community, Ed serves as a mentor to colleagues, and aiding in pursuits of professional development. Outside the trucking community, Ed is actively involved in his church and volunteers with HeartFelt Ministries, an organization that assists seniors in need.
ABOUT JARRETT
Jarrett is guided by our eight core values: courage, character, civic responsibility, excellence, entrepreneurial spirit, respect, fairness and compassion. Our mission is to put exceptional people and innovative technology at the center of your supply chain. Jarrett's vision is to be a market leader in the supply chain industry by delivering world-class service to our clients while staying true to our family-owned values. Partnering with Jarrett, clients are able to anticipate and resolve supply chain challenges, unlock operational efficiencies, and lower transportation-related costs. Founded in 1998 and headquartered in Orrville, OH. Additional locations for Jarrett include Cleveland, OH, Hickory, NC and Los Angeles, CA; warehousing locations in Orrville, OH and Leola, PA; and fleet services centers located in Seville, OH and Kent, OH. Jarrett has multiple accolades including: Inc 5000 Fastest Growing Companies (15x), 2021 Green Supply Chain Award, and Food Logistics Top Green Provider (3x). For more information about the company, visit www.gojarrett.com.