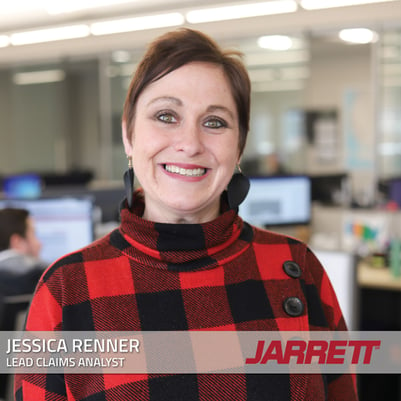 Our employees are the foundation of our award-winning workplace culture and excellent customer service. We are proud to have these people as a part of our Jarrett team.
We'd like to introduce you to Jessica Renner, Lead Claims Analyst, here at Jarrett. Read her answers to the questions below to find out more about Jessica!
How long have you been at Jarrett?
I started as a temp in April of 2015 and became a full-time Jarrett employee in August of 2015.
What is the best part of working in your department?
The problem solving; there is never a dull moment in Claims. No two claims are exactly alike and each one must be investigated based on its own merits.
If you weren't in Claims, what job would you have?
I've always been interested in the HR department because I am very much a people person. I would love to help people find the career that they enjoy coming to everyday.
Favorite memory at Jarrett so far?
The fiesta baby shower that my coworkers put on for me when I was pregnant with Nicholas. The Taco piñata was such an added bonus!
Who has been a mentor for you here at Jarrett? How have they helped you?
I have had several mentors over the years here, but Mark Gordon has been consistent throughout. Mark has given me the confidence to get myself where I am today within Jarrett. I wouldn't be nearly as successful without his guidance and confidence in my ability. When I have had concerns, whether it be inside work or outside in my personal life, he has always taken the time to listen and provide advice.
What would you name the autobiography of your life?
There's a Method to my Madness….
What is one skill you wish you had?
To be in more than one place at the same time.
If you could learn to do anything, what would it be?
Both of my parents were pilots (private, not commercial) and I would love to take after their footsteps by learning how to fly.
What chore do you wish would do itself?
Folding laundry and putting it away. I dread doing this…
What fictional character would you be?
Nancy Drew (solving mysteries).
We are grateful to have Jessica here at Jarrett. If you are interested in being a part of our team, visit our careers page.
For more Employee Spotlights, check out our blog!