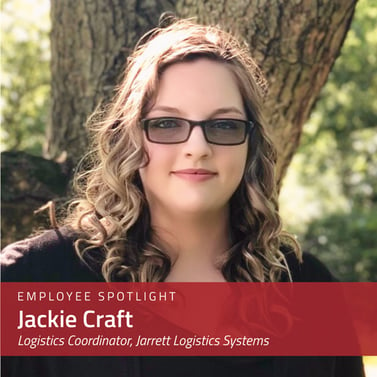 At Jarrett, the difference is OUR PEOPLE. Our employees are the foundation of our award-winning workplace culture and excellent customer service. We are proud to have these people as a part of our Logistics, Warehousing and Fleet Services team.
We'd like to introduce you to Jackie Craft, Logistics Coordinator for Jarrett. Read her answers to the questions below to find out more about Jackie!
How long have you been at Jarrett?
3 years
What is the best part of working in your department?
When customers tell us that they don't know what they would do without us.
Favorite memory at Jarrett so far?
When the office threw me a bridal shower.
What is your favorite quote?
"Dream as if you'll live forever; Live as if you'll die today" - James Dean
Which employee perk that Jarrett offers do you enjoy the most? Why?
MBOs - I enjoy working as a team to accomplish these goals.
Who has been a mentor for you here at Jarrett? How have they helped you?
Jill Hochstetler and Jared Williams have been my biggest mentors. They both guide me and push me to be the best I can be.
What would you name the autobiography of your life?
"Life of an Army Brat" - I have moved states more than 10 times, which I believe has made me into the person I am today!
If you could learn to do anything, what would it be?
Learn a new language. I tried to learn French once ... It didn't go so well.
How is Jarrett "different"? (Compared to other company cultures you may have experienced)
Jarrett's culture is different because of the focus on the employees well-being. Jarrett does so many things for the employees that most business wouldn't. A couple examples include the wellness program, providing a food truck in the summer, and sending employees to baseball games.
How is Jarrett "different"? (Compared to other competitive, similar logistics services).
We are a one stop shop. We don't only route freight; we track freight, audit/dispute invoices, provide detailed analysis of data, and much more. We go above and beyond to give our customers what they need, and to make their lives easier.
Share a time you felt valued or appreciated by someone at Jarrett or by a customer.
When I went on vacation in March, our team lead was on maternity leave so my manager (Jared) had to help cover for me. When I came back from vacation, Jared told me he realized I did a lot, but didn't realize just how much. That was probably the biggest compliment he could give me.
We are grateful to have Jackie here at Jarrett. If you are interested in being a part of our team, visit our careers page.
For more Employee Spotlights, check out our blog!